As the saying goes, a worker is only as good as their tools — and this certainly applies to auto bodywork. Car technicians perform complex refinishing and repair jobs, which involve repainting delicate surfaces and getting rid of dents. Professional standards tools and equipment can spell the difference between a straightforward job and one that causes constant problems.
A great auto body or vehicle repair shop needs to be equipped with a range of important automated equipment, power tools and hand tools. These will allow auto repair experts to tackle any job effectively and efficiently.
What should individuals pursuing a career in the automotive body industry have in their toolboxes and garage?
Here are nine invaluable tools that you will use:
1. Air Compressor
If you're serious about pursuing auto body repair and painting cars as a moneymaking venture, purchase or rent an air compressor that will get the job done, making the vehicle last for years to come. Every air tool you're planning to buy for your garage or repair shop will need an air compressor to function properly.
A common auto bodywork that technicians do is painting. If you want to make this job quick and easy, you'll need to equip your shop with a decent air compressor with a capacity of 30 to 60 gallons. The bigger the air compressor, the better, as a large compressor will benefit you in the long run.
2. Dual Action (DA) Sander
Another tool you'll need to succeed in your career as a car technician is a DA sander. This handy tool enables you to complete sanding and polishing jobs quickly. You can find different DA sander options on the market with a diverse price range.
3. Auto Body Sanding Blocks
A sanding block is vital when performing car body repair. You need them for buffing, color sanding, shaping the body filler, cutting high spots on the vehicle and finding low spots in your bodywork. This affordable tool is a must-have on your toolbox.
4. Finger Ratchet
Automakers like to install control boxes and relays in dark and deep places under the dashboard. This means that car technicians may encounter difficulty loosening the hex-head screws using big tools.
Enter the finger ratchet. You can get fasteners out of hard-to-reach areas when you use this tool. The mechanism of this fine-tooth ratchet allows you to rotate backward without turning the screw back in. Although you won't always have to use this tool, it pays for itself especially when you encounter hex-head screws that are difficult to reach.
5. Slide Hammer
This tool is a car technician's best friend. A slide hammer fixes dents and pulls out panels.
The slide hammer comes with a round and long shaft with the sliding hammer weight. This lets you generate force without actually striking the panel. Many slide hammers on the market come with a range of different hook and screw attachments. Some auto body shops, in fact, will even customize a traditional slide hammer to fix unusual dents in vehicles.
6. Fender Roller
Some customers bring their vehicle to an auto body shop to roll the fender so that the tire does not hit it anymore. Given that you may encounter customers like these, you'll need to invest in a fender roller. If you need to reshape or heat the fenders to prevent the vehicle's tires from coming into contact with them, get this tool for your garage.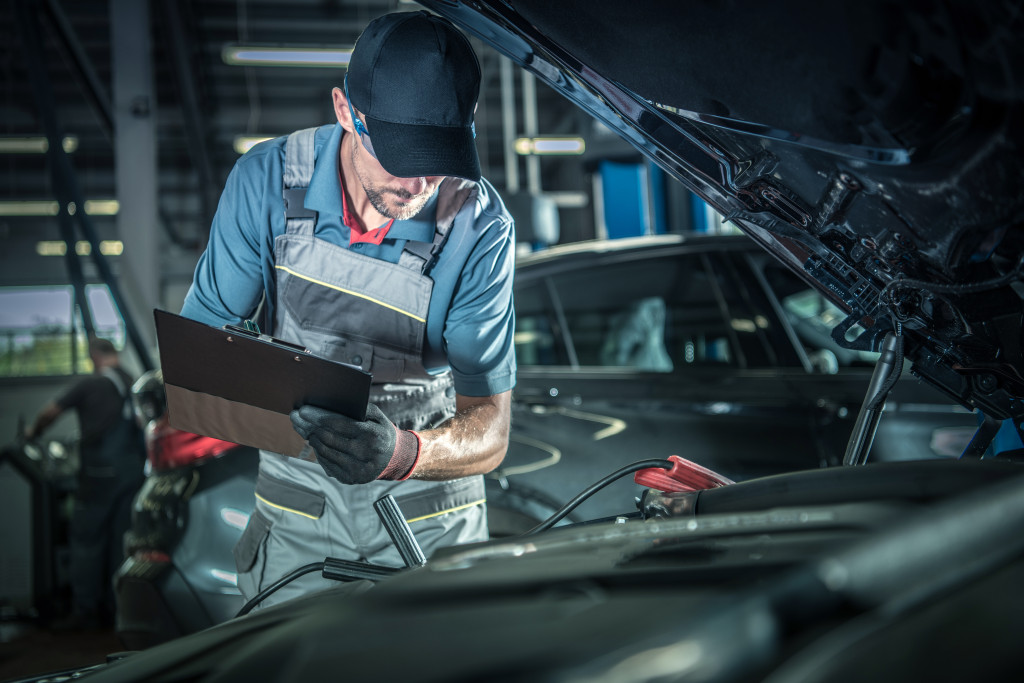 7. Auto Body Hammer and Dolly Set
If you're planning to do auto collision repair, investing in a good hammer and dolly set would be a wise choice. This pair of tools typically cost anywhere between $50 and $200.
Proper dollies and auto body hammers are crucial to professional panel beating. Given time and practice, you can use this tool to effectively fix even the most stubborn service dents. What's more, a good set can last a lifetime with proper care, making this tool a great investment on your part.
8. Spray Gun
Completing a paint job effectively and on schedule is another important part of a car repair technician's work. Problems with the paint finish of a vehicle are among the most things a customer will notice. Your paint job, therefore, will need to be perfect.
What you'll need is a spray gun that effectively atomizes the paint you've loaded into fine particles onto the car's panel. This will result in a glossier and more professional paint job that your customer will love.
9. Formable Funnel
You'll need this tool when you're changing the oil of a car. It flexes, molds and bends to help you channel the oil right into the drain pan. Pro-tip: you can use this tool on plumbing repairs, as well.
Pursuing a career as an auto technician or starting an auto body repair shop requires more than just learning the skills necessary to fix cars. You also need to own these nine essential tools to undertake any auto bodywork effectively.