A bridal photo shoot is done long before the wedding to simulate the day beforehand. The bride will wear everything she will be wearing on the wedding day for this photo shoot and pose for the camera to produce beautiful photos. This shoot can act as a test-run on how the bride will get ready on the day of her wedding, so it is important to prepare properly for the photo shoot. Here are some tips on how you can plan and take the perfect photos for your bridal photo shoot.
Find a good photographer
Of course, one of the most important factors in a bridal photo shoot is the photographer. Finding the right person to photograph you involves a lot of research and surfing many bridal catalogs. You should look for a vibe that you like and hire the professional who made that photo.
Depending on their offered services, they can take care of the shooting, editing, and printing of the photos until the wedding day so try to find the deal that suits your needs the most. Remember to keep in contact with your photographer to make sure that the shoot goes smoothly.
Do self-care for a glowing look
Before going to your bridal photo shoot, you should try to look like your best self. This involves taking steps to make you as beautiful as you can be without the makeup that will be put on you later. Some brides visit spas to relax and let go of some of their suppressed stresses. They get massages and other wellness treatments to cleanse their minds.
Some others schedule a visit to the salon to get their hairs colored and treated or their nails prepped and painted. Others even go to their local dental clinics to make their smiles picture-perfect. These things have to be scheduled days before your bridal shoot. The early schedule helps to get rid of the side effects of these treatments before the shoot date, like swelling, redness, pain, anything that can inconvenience the day.
Plan the aesthetic
Make sure to plan the aesthetic that you are going for beforehand. Visualize what kind of bride you want to look like – maybe a blushing bride in a flower garden, a stylish bride in a contemporary music room, or even a unique and quirky bride that defies the classics. Having this in mind will help you plan the props to be used and the location for the shoot.
Furthermore, your chosen aesthetic may dictate some important factors in the desired results like the lighting, the time of day, and the overall ambiance in the photos. These things can greatly change the emotion in the pictures. Additionally, this will also help you think of the possible poses that you can do for the photo shoot so that you'll get pleased when the photos are sent to you for review.
Allot (extra) time to do hair and makeup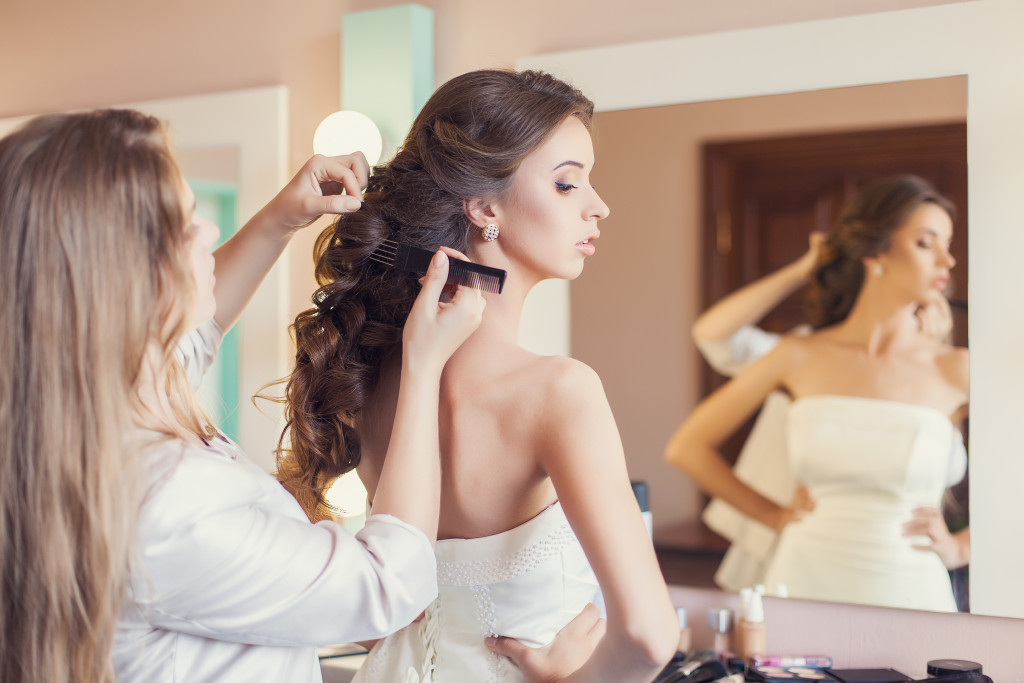 Same as your actual wedding day, you have to allot enough time to get your hair and makeup done for your photo shoot. This also includes getting into your dress and choosing the right kind and amount of accessories. We all know that these tasks can take hours to do, not to mention get everything perfect. Revisions and redo preparations are very common so having extra time is always good. If you think 2 hours is good enough, consider adding another hour (or even two more)just to be safe.
List down your bridal photo concept
Lastly, it is advisable to list the things you'd like to see in the pictures. Aside from the aesthetic, you may want to see candid moments of yourself during the shoot. You might want to see yourself in motion or in the distance with nature. You may be bringing your partner and would like to feature intimate or funny scenes.
Many brides will require bridal photos with their families and the families of their partners. You may even have your entourage with you in the shoot for those group pictures with your best girlfriends. This list will remind you of your ideas and inform the photographer of your vision for the photo results.
The outcome of the photo shoot will always be a beautiful bride who is ready to walk down the aisle. This shoot will help to give you that initial look into how you will appear on your wedding day, so following these steps should help your prepare for it well. With the pictures already taken care of, you can focus on enjoying your day with your partner and the attendees while having fun and celebrating your love for each other.