One of the most exciting adventures that often come with marriage is the prospect of raising children with the love of your life. There is just something uniquely wonderful about the opportunity to nurture young lives with a person who has nurtured yours in many ways.
Now that the talk of kids is on the table for you and your spouse, there may be many questions that are running through your mind. You may feel a mix of thrill and anxiety because you want to make sure you get things right the first time.
Whether you and your partner are expecting or still considering the possibility of having kids, something you have to pay attention to is the task of putting together your baby's first room. The nursery is where your child will make their first memories, after all!
Here are some tips to make sure you're making the right calls in setting the space up:
Anticipate Your Child's Needs
You want your nursery to work with you as you take care of your newborn. But you also want it to be comfortable for you since you and your spouse will spend a significant amount of time there taking care of your baby.
1. Make safe play a priority
Newborn babies do not move around much, sure, but that's just for now. You might be surprised at how quickly they start running around and exploring! This is why you should baby-proof the nursery while your baby is still young.
Cover your sockets and outlets, and put cords somewhere your child cannot touch them. Mind how your furniture is built, too, and make sure no rough edges or hanging items are at risk of hurting your child. Also, have slip-proof rugs to avoid falls for when they start walking.
You may also want to purchase toys ahead of time. Versatile sets that they can manipulate and build things with, such as construction toy sets and blocks, will benefit them in their growing years. Just tuck them away in a container that they cannot just open on their own to avoid choking hazards.
2. Install lots of storage
Your baby needs a lot of things daily. They need their regular dose of milk, some diapers, and toiletries for bathing. They also need lots of clothes and bibs to change into if they make a mess (and they usually make a mess).
You will thank yourself later when you set up a lot of storage space in the nursery. It lets you keep not just daily essentials, but also their strollers, walkers, and toys in one place.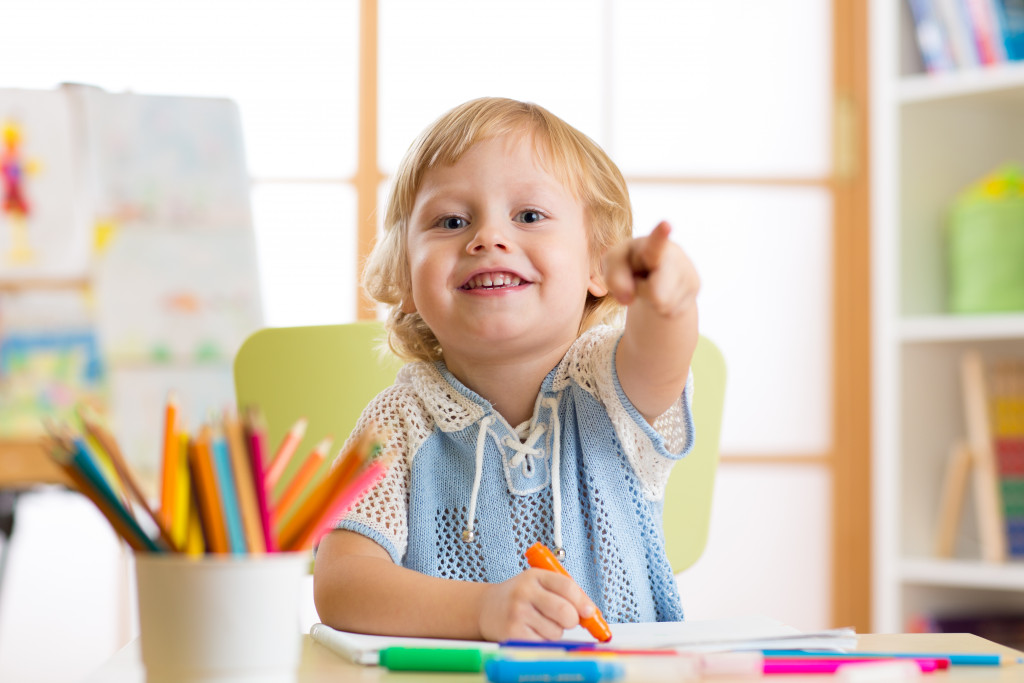 A great thing about having plenty of storage in the room is that there will still be use for it once your child grows older. As they grow up, they accumulate more stuff, and ample storage space allows them to stay neat.
3. Leave space for you
Your baby is not the only person who will spend a lot of time in the room. Since you and your spouse will take care of your newborn, you also need to be comfortable.
Have a soft, sturdy chair where you can nurse your newborn from an easy position. Make sure it is one that you would not mind sitting for hours in since you will spend a lot of time in it, whether you are feeding your baby or playing with them.
Have Some Fun with the Place
You want your baby to grow up in a pleasant environment. Making the nursery look lively is one way to accomplish this.
1. Introduce splashes of color
The quickest way to make a room happier is by adding some color to it. When deciding how much color to add, though, keep in mind that they will likely grow up using this same room.
Instead of going wild on the bright colors, tasteful pops of color here and there should do the trick. Replaceable decorations that you can remove once your child outgrows them are also useful.
2. Don't over-decorate
It's easy to get so eager to put your baby's room together, but the tendency with this is to put too much in the room that the theme ends up looking incoherent. When creating the best nursery, know that simplicity is the best.
A simple room lets them run around and play in a bigger area later on. It also provides a good canvas for your child to give input on how to decorate it when they're older.
Comfort and coziness are vital, but here's one last principle to go by: Your nursery should grow up with your baby.