Designing your home is an exciting endeavour because you can implement your own design styles without inhibition. And the backyard is a good place for this.
Your home's backyard design should meet you and your family's comfort needs. This is the place where you can hang out on a nice summer day or where you can have beers and BBQ nights with your friends. A poolside would be perfect for these moments.
Or, if you're looking into changing things up in your current backyard, you can find a remodelling contractor who can design a chill-worthy, shaded terrace for your relaxation needs. Still don't have an idea for your backyard? Here are a few suggestions that can help you get started on designing the most awesome backyard on your block.
Fire Features
Installing a fire feature in the middle of your garden has been an ongoing trend for modern home designers. There are different fire features to choose from, like fire pits, fire bowls, fire tables, and good old campfires. Just pick one that goes well with the rest of your backyard design and turn it into the perfect outdoor destination right in your own home.
Zen Landscaping
Invoke calmness, tranquillity, and peace into a perfect space in your home for it — your backyard. A good mix of sand, stone, subtle greens, and bamboo can create the best backyard space you can come home to after a long day. Stone paths are a must-have in a zen garden. You can use fresh bamboo plants or bamboo wood for your walls and fencing. And there are different kinds of Japanese plants you can add to your design to bring harmony into your backyard.
Bohemian Garden
The Boho design can bring a bright and playful vibe when brought outdoors. This design uses many colors and textures that you can carefully mix to show your carefree side. You can create a cosy, low seating area with throw pillows, bean bags, and poufs set on a large mandala-print rug. Add string lights for your lighting, and this would be the perfect scene for an evening of wine and conversations with friends.
BBQ-friendly Features
If you're the type who loves inviting friends over for beer and BBQ afternoons, this would be the perfect design for you. This design should start with an excellent outdoor patio dining set. One made of sturdy, dark wood should work. Deck walling and flooring are also a good background for this design. Just make sure to choose the right shades of wood that will match your outdoor furniture.
For the pièce de résistance, a carefully chosen barbecue grill set up that will blow your guests away. You can use bricks, concrete, or wood to house your grill. It's just a matter of choosing the right design that will blend well with the rest of your backyard space.
Lawn with Wood Fencing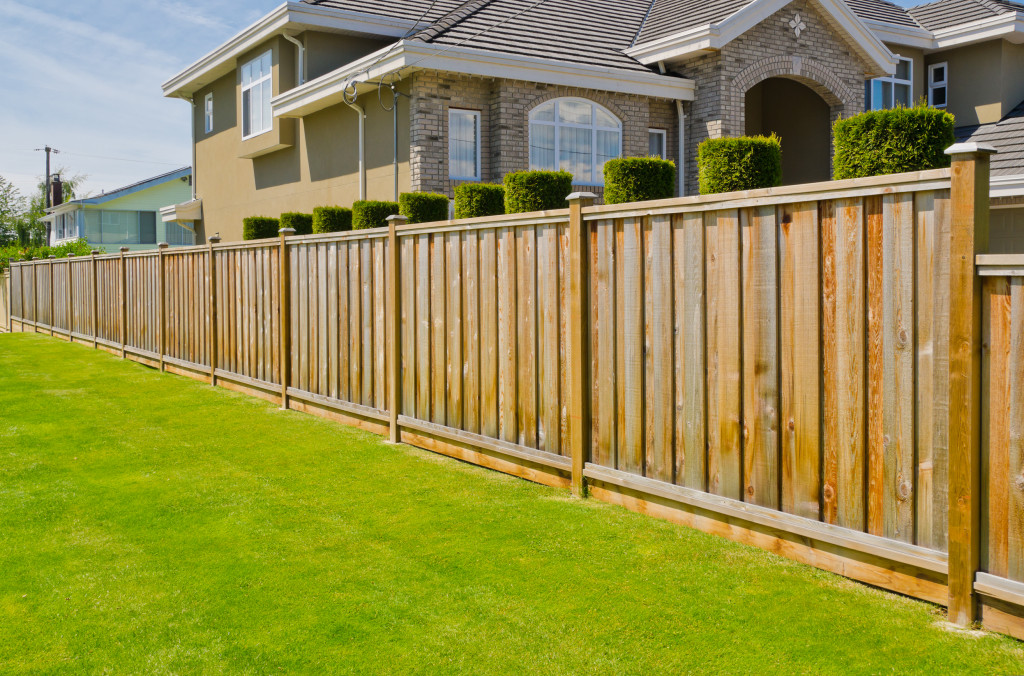 Having a backyard lawn is perfect for a family with kids. You can have picnics or camping trips right in your own backyard. Of course, you can't stop at just having a lawn. You can add a small vegetable or flower patch along the sides of your lawn and match them up with an excellent wooden fence.
There are different types of wood and designs to choose from when putting up a fence for your backyard. The more popular kinds of wood used for fencing are cedar, pine, cypress, and Oakwood. They can come in different shades as well. The idea is to choose the right fence that would go well with your exterior home as a whole.
Lawn and Stone
Putting together lawn and stone designs for a backyard can be tricky, especially in maintenance. But it can bring a sophisticated, nature-vibe into your garden. Rocks and stones can come in many shapes, sizes, textures, and colours. You can create a pathway made of flagstones to cut through the middle of your lawn. Or you can also use river rocks, crushed granite, or boulders to make designs that bring the great outdoors to you.
Chic Decks
There are a million ways to use decking to bring out the attractive outdoor design to your backyard. A simple modern deck with an outdoor dining set is perfect for the simple, family al fresco dinner. You can also extend decking to surround your pool area and add rattan furniture to create the perfect beach getaway at home. If you have a bigger space, you can also opt for multi-level decking to have more places to hang out in.
There are a lot of other designs out there that you can incorporate into your personal design. Just remember that you are the captain of this ship. You can choose what you want to achieve in the outdoor space that you've always wanted for your home.