Home construction projects are at an all-time high. It's primarily because more people work at home and need more family space. Nevertheless, construction projects are a significant investment, and you must be prepared before undertaking such an endeavor. Here are the five essentials of every home construction project.
Building Permit
Extensions are some of the most commonly built home additions. But before you can start building, you must ensure that you have the proper permits. Building without a permit is illegal and can result in significant penalties.
Building permits are required for most construction projects in the United States. The purpose of building permits is to ensure that all construction projects meet particular safety and zoning standards. Building permits also help ensure property owners adhere to local codes and regulations.
You will need to apply to obtain a building permit. The application will require detailed information about the construction project, including the proposed scope of work, the estimated cost of the project, and the contact information for the project manager.
The process of obtaining a building permit can be lengthy and complex. Therefore, submitting a complete application and having all necessary approvals before starting construction is essential. If you are unsure whether you need a building permit, it is best to consult with your local building department.
Some third-party permit expediting services can help you promptly obtain the necessary permits. These services will typically charge a fee for their services. But make sure that they are licensed. Your local government website should have a list of them.
It is important to note that obtaining a building permit does not guarantee approval of your construction project. The building department may still have concerns about the safety or compliance of the project. Sometimes, the building department may require modifications to the plans before approving the permit.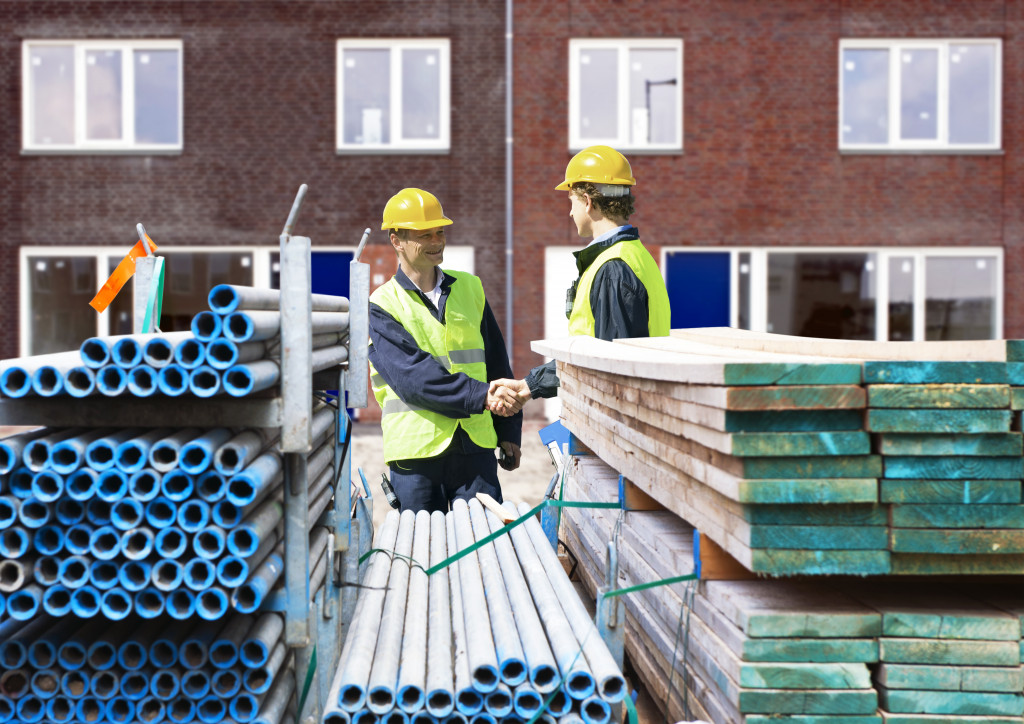 Ensure The Safety of the Project
Construction projects can be dangerous. Many potential hazards include falling debris, electrical shocks, and slips and falls. That is why it is essential to ensure the project's safety.
Some safety measures you can take include:
Wearing proper protective gear, such as hard hats, safety glasses, and work boots
Following all OSHA regulations
Keeping the construction site clean and free of debris
Posting warning signs around the construction site
Using caution when working with power tools and other equipment
As a client, you don't need to ensure that the contractors follow the safety regulations above. However, it's your job to hire someone qualified for the job.
There are various exams and qualifications that you should check before hiring your contractor. For example, in the United Kingdom, the CSCS exam is essential for contractors regarding their safety. That's why it's good to hire a contractor that has passed such an exam. It can significantly reduce the risk of an accident during your project.
You can check if your contractor is licensed in the United States through the Department of Labor's website.
Selecting Materials
Selecting suitable materials is one of the most challenging aspects of any construction project. With so many options on the market, it can be difficult to know which materials are best for your project.
If you're planning to go sustainable, you can never go wrong with reclaimed wood, bamboo, or cork. However, these materials can be more expensive than traditional options.
When selecting materials, it is essential to consider both the cost and the quality of the materials. Cheaper materials may save you money in the short term, but they will likely need to be replaced sooner than higher-quality materials. Therefore, choosing higher-quality materials is often more cost-effective in the long run.
For example, hardwood costs more than laminate, but it will last longer and look better. Similarly, granite countertops are more expensive than laminate, but they will add value to your home.
It is essential to consult with a contractor or designer before making any final decisions about materials. They will be able to advise you on the best options for your project.
Have an Emergency Fund
Unexpected costs are one of the most common problems with construction projects. Even if you have a detailed budget, there is always the potential for unforeseen expenses. That's why having an emergency fund for your project is essential.
Your emergency fund should cover unexpected costs, such as:
Additional fees for permits or inspections
Changes to the plans
Damage to materials or equipment
Delays in the construction schedule
It is best to set aside at least 10% of your total budget for your emergency fund. It will help you avoid going over budget if something unexpected happens during your project.
Remember that an emergency fund is not the same as a contingency fund. A contingency fund is used to cover expected but unanticipated costs, such as the cost of extra materials if the project is delayed.
On the other hand, an emergency fund is used to cover unexpected costs you did not anticipate in the budget.
No matter how well you plan, a construction project can still go wrong. However, it never hurts to follow the tips above. It can help you avoid some of the most common problems associated with construction projects. In addition, being prepared can reduce the risk of delays, accidents, and unexpected costs. Finally, it will help ensure that your construction project is a success.