Having a baby is one of the most beautiful things to happen to a woman. It's a time of remarkable transformation, both physically and emotionally. But let's be honest — it's not always easy being pregnant. You might feel bloated, tired, and like your old clothes don't fit quite right. Luckily, you can do a few things to look and feel your best during this particular time. Here are five tips for how to look healthy and gorgeous during pregnancy.
1. Get a maternity 
photoshoot
A maternity photoshoot is a great way to commemorate this amazing time in your life and capture the beauty of motherhood. Not only do these photos make beautiful keepsakes, but they can also help you look and feel your best during pregnancy. At a maternity photoshoot, you can get professionally styled hair and makeup that will flatter your features and highlight your natural beauty. You'll have access to wardrobe options that accentuate your growing bump and make you look stunning.
Plus, the photographer can help you select flatter poses for your body type and show off your best assets so you look healthy and gorgeous. With the perfect lighting, angles, and props, a maternity photoshoot will create a magical, timeless experience that you'll cherish forever. So don't hesitate to schedule one — it's the perfect way to celebrate your special pregnancy journey. You can even post the photos on Instagram to share the joy with your loved ones!
2. Invest in some comfortable, yet stylish maternity clothes
Investing in comfortable yet stylish maternity clothes is the perfect way to look and feel fabulous during pregnancy. Maternity wear has come a long way over the years, offering flattering styles that make you look healthy and gorgeous. From soft leggings to flowy maxi dresses, many options fit your changing body and lifestyle.
Look for pieces made of breathable, lightweight fabrics with plenty of stretches to keep you comfortable all day long. Don't forget to accessorize with jewelry and shoes that sparkle your look. And if you're going out at night, try wearing a statement piece to make you feel extra special. For instance, this statement piece could be a lovely dress or stylish heels. With the right maternity clothes, you can rock the pregnancy look and feel healthy and gorgeous at every stage.
Here are some retail brands with great maternity clothes as well as what they offer:
H&M

 Maternity 

–

 affordable and stylish basics

ASOS

 Maternity 

–

 on trend looks for special occasions

Mothercare

 

–

 trendy and comfortable everyday clothing

Eloquii

 Maternity 

–

 stylish and timeless wardrobe staples
Destination Maternity 

–

 classic pieces for work or play

Shein

 

–

 chic, affordable maternity clothing
3. Eat healthily and exercise regularly (with your doctor's approval)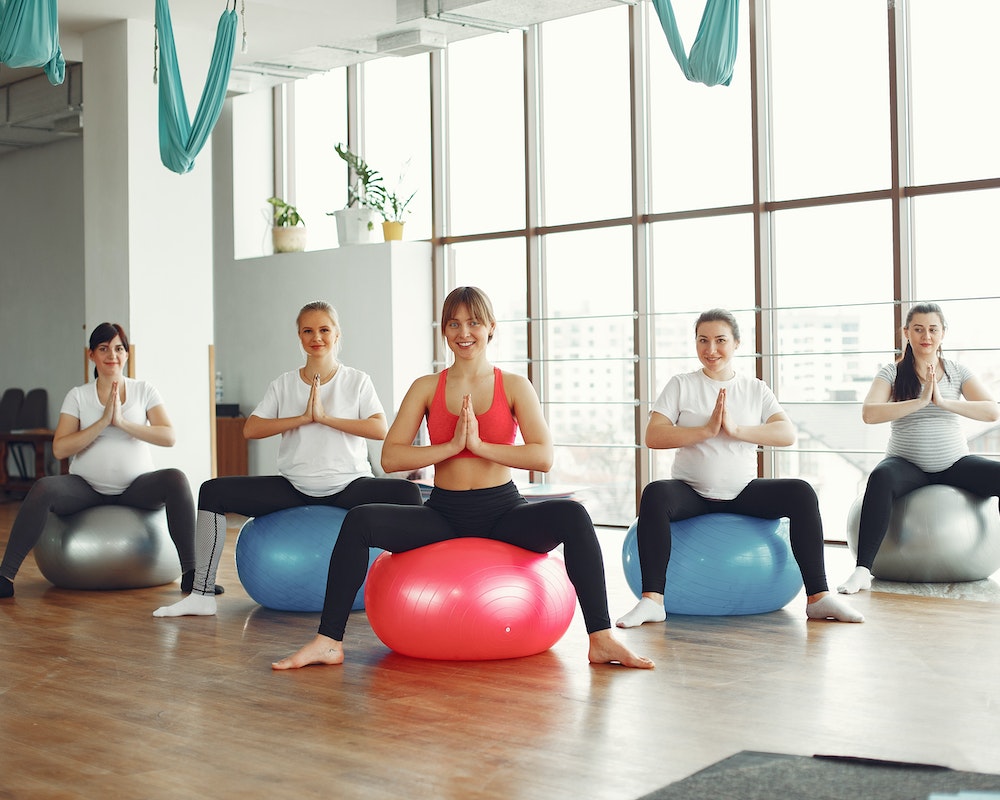 If you want to maintain your health and physical appearance during pregnancy, it's vital that you both eat nutritiously and work out often. Studies show that pregnant women who exercise regularly and eat healthy foods are more likely to give birth to healthy, full-term babies.
A diet with plenty of fresh fruits, vegetables, whole grains, lean proteins, and healthy fats will help you get the nutrients your body needs. Additionally, make sure to limit or avoid processed foods and sugary drinks. You should also get plenty of fluids throughout the day, as hydration can help reduce fatigue and bloating.
Exercise is another vital part of staying healthy during pregnancy. It can help you maintain a healthy weight, strengthen your muscles, boost energy levels, and improve your overall well-being. Try getting at least 30 minutes of moderate exercise daily, such as walking, yoga, or lightweight training. However, check with your doctor before starting any new exercise routine.
4. Take care of your skin
Pregnancy can cause skin changes, from stretch marks to acne. Start by cleansing your face with a gentle cleanser twice daily to remove dirt and oil that can clog pores and cause breakouts. Additionally, use a moisturizer with natural ingredients like shea butter or aloe vera to keep your skin hydrated and nourished. Another great way to take care of your skin is with a weekly face mask. This will help clear your pores, reduce inflammation, and improve skin tone.
To further protect your skin, wear sunscreen whenever you're outside and cover it up with clothing or hats to shield yourself from the sun's rays. This is because the sun's UV rays can cause wrinkles and age spots, so it's best to be proactive in taking care of your skin during pregnancy. Lastly, treat your skin with kindness and patience; it's undergoing many changes and needs extra care. You can look healthy and gorgeous throughout your pregnancy with the proper skincare routine.
5. Get plenty of rest
It's essential to listen to your body when you're pregnant and get the rest you need. Stress, fatigue, and lack of sleep can leave you exhausted, so try to get at least seven to eight hours each night. Going to bed earlier or taking short naps throughout the day can help boost your energy levels and reduce stress.
Additionally, try to practice relaxation techniques such as deep breathing or meditation before bed to help you drift off into a peaceful slumber. There are guided meditation apps like Calm or Headspace that can help you relax before bed. To ensure the best sleep quality, also ensure your bedroom is comfortable and dark. Make sure your mattress is supportive and replace it after several years. Investing in blackout curtains can also be helpful if you live in an area with a lot of light pollution. With the right rest, you can look and feel healthy and gorgeous throughout your pregnancy!
In Closing
Pregnancy is a fantastic time in a woman's life — but it's not always easy. Between the physical changes, the emotional ups and downs, and the lack of sleep, it can sometimes be hard to feel like yourself. But by following these five simple tips, you can look healthy and gorgeous throughout your pregnancy journey.