Living together after marriage is totally different from living together before marriage. The commitment is now very real and you both have to settle into a house that must become a haven for both your personalities. Even if you two have a lot in common, there will still be some areas where your tastes clash. Clear and direct communication while decorating can help to keep you both on the same page.
Many couples these days are choosing to buy land and build a home. It can often be the best way to ensure that your home is exact to your specifications and suits your plans to build a family, is suitable for sustainable living and has enough of the amenities and conveniences you need for comfort in modern living. Can you imagine living in a house without enough plug points for all your devices?
Let's explore some great ways to decorate a house on a budget so that you can come up with ideas and suggestions to help you and your spouse to figure out how you want to approach your home. It is always better to have an idea or several in mind when making decorating choices. This is what allows you to end up with rooms that flow and have a cohesive feel rather than a mishmash and clash of colors, prints, and styles of furniture.
Recycled Wood
Recycled wood benches for the dining room, cabinets for the living spaces, and shelves for the pantry and parlors can be a great way to add a rustic and charming feel to a house. It is also much cheaper to recycle and refinish the wood yourselves than to buy expensive new wood furniture.
Recycling wooden furniture is much greener than buying new wood furniture as it keeps older and sturdy pieces in use. This keeps old furniture from ending up in landfills. If you develop a passion for it and do a great job with bringing your old furniture into a new life, you could have a profitable hobby.
People will pay very good rates to have their old furniture refinished and restored to a beautiful new look. A young couple can always benefit from having a hobby you can do together while making some extra money on the side.
Exposed Shelving
Kitchen cabinets can be expensive to put in but you do not really need to have them. Why not go with beautifully finished and painted shelves on your kitchen walls so it feels like every pot and pan is being displayed for admiration.
Exposed shelving is a popular trend and can go beautifully with a rustic or farmhouse-themed kitchen.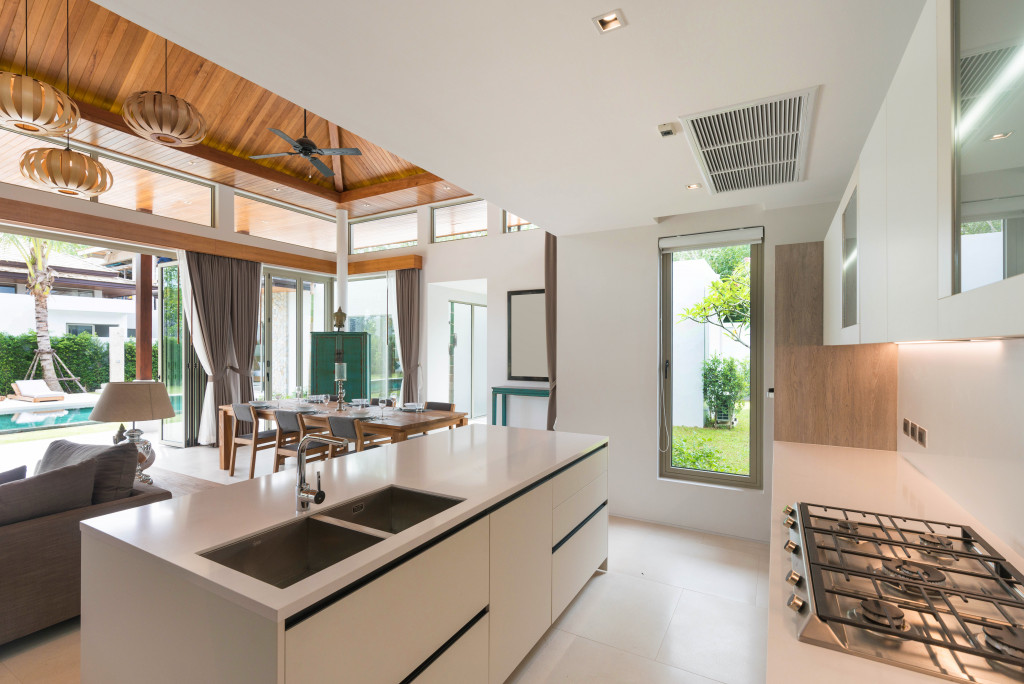 Framing Paint
A very simple way to provide a cohesive look to all your rooms that also beautifully showcase your furniture is to use paint. Paint the baseboards, window frames, and door frames a different color from your main paint color, so they stand out and frame the rooms.
You can use white if your walls are painted a dark or bold color. If your walls are light-colored then obviously a dark color framing paint will be best. A softer framing look can be achieved if you use a lighter or pastel shade of your main wall color so that it is still set off but not quite so starkly.
Raise Your Curtains
A great way to make your windows look better and give your house a more elegant look is to raise your curtain rods to the ceiling. Right now, many homes have curtain rids placed right above the window. This can make for a cramped look and is a very common sight in many places.
Add elegance and make the height of your rooms more evident by re-installing the curtain rods so that the curtains fall down from the ceiling to the floor.
This will make the room feel bigger and more attractive. The true beauty of your gauzy curtains can also be appreciated and can become a major focal point of the rooms' decoration. This means your fairly simple furniture will now look better in comparison because the raised curtains transform the room into a more elegant space.
Being great together as a couple can often mean appreciating your differences. It would be healthy for you two to have a space you can retreat to do your own thing by yourself for a few hours so that you can return to your shared spaces with openness and relaxation that will add intimacy and acceptance to your marriage.
You can either share a craft and hobby room or you can turn a small closet into a craft area for you while the two of you build a man shed for him outdoors. Whichever style you go with, remember that this need to enjoy your own space in your own way will strengthen your marriage.