Post your marriage ceremony and all the traditional affairs; it is time to lighten down a bit. And what better way than a cocktail party? Now, it is all about new experiences and relaxation. Before jumping head into the matrimony life, you can enjoy some lovely moments.
Your cocktail reception is also an extension of your wedding, and you can make your wedding event a memorable affair for all. The party boasts close ties and the cocktails, of course, attract all your friends, old and new. Here are a few essentials that should make it exciting.
Arrange a Great Buffet
Arrange some great appetizers and drinks for your friends and family. The event tones down the mood to a considerable extent. You can lay down a wide choice of goodies. Buffets are always lavish, as your guests don't have to keep asking the waiter to serve. It is embarrassing to keep asking for additional servings. You ought to keep everyone in mind while planning the reception party.
Food counters are suitable for guests to enjoy some gossips. They can help the conversations flow. Moreover, you can also get to know your better half's friends and family better. Your choice of food should resonate with the theme of the party. It is an informal event, so keep various cocktail appetizers, BBQ, chicken satay, cheese platters, roasted meats, and truffles, to name a few. You should remember to keep different seating in tune as well. This helps all old and young ones relax accordingly.
Focus on Your Looks and Attire
After you are out of your wedding dress, this affair is the right time to get all-decked up once again and reveal your lighter side. Now is the right time to bring out those glossy evening gowns, which lay unused in the cupboard. Choose nothing, but the best for yourself, as it is your evening. Choose colors for the season. If it is a summer wedding, you can use lighter and brighter colors to reflect the heat. As for winter ones, dark-colored and velvety gowns and dresses may be the choice. For winters, Marsala is in. And if you are not sure, go for blacks, blues, or silvery whites. You cannot go wrong with them. The reception is the best time to ditch your golds and go for silvery whites, diamonds, and platinum.
Moreover, your shining asset, your teeth, also needs to be in excellent health. Oral care is something you can never ignore, as it is the precursor of many ailments. Before the wedding, you must go for complete dental treatment to address issues, if any. Most brides-to-be go for cosmetic procedures like whitening and veneers. Wedding or not, cocktail party or not, you have to keep up your good looks all through. But now it is of special mention, as you will be meeting people. Nobody likes to look at yellow teeth peeping from amidst pink lips. When it comes to hair and makeup, nudes can be great for the evening. You can sport loose hair or a casual bun. Both are good to go.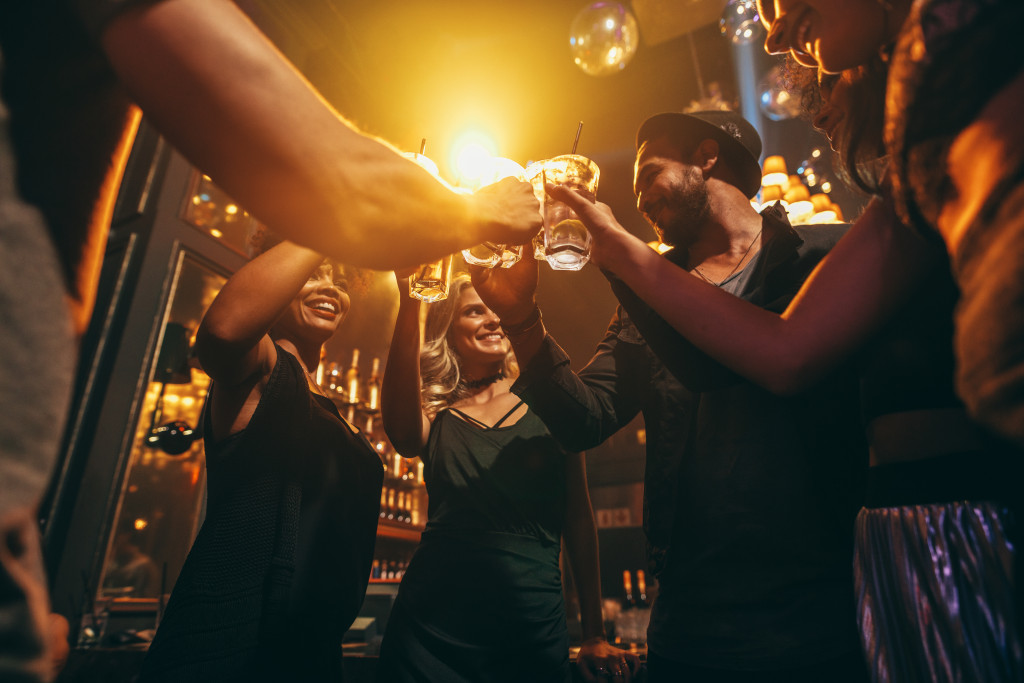 Pick the Right Seating Arrangement
The event may be about four to five hours. So it is strongly advisable to arrange some nice and cozy seating for your guests. Create seating in a lounge area, cocktail tables with bar stools, and standard round tables for families. You have to think about everyone there. Get your decorator to throw in ottomans, and cozy sofas, with colorful cushions to make the lounge area more attractive. And arrange ample lighting.
Host the Right Way
You and your spouse are the chosen ones as the hosts. So make some plans beforehand to keep your guests engaged. It all boils down to how many people you invite and whether they are friends or work colleagues. Moreover, you also need to check if the party is indoors or outdoors. Your budget is also essential. If it is a small cocktail party, you can handle it all on your own. But larger ones, you might need assistance from family, friends, or professionals.
You don't want to get stressed out, do you? Many caterers also offer bartending services. Thus, you can utilize them to serve the drinks. You should plan a full bar for your guests. As you never know what they will ask for. You can arrange for musical sessions and dance sessions. Some hosts even arrange games for the next best couples. Do as you please. However, you have to keep your guests engaged. So check out some party games and make your guests play them. You want them to remember this party for a long time, don't you?
These are a few essentials of your cocktail party. You can devise more ideas and apply them. The main intention of such a party is to lighten the mood and make everyone, including yourself, merry.