Renovating outdoor spaces has been a recent trend thanks to the pandemic. With you and your family spending more time at home than ever before, it's crucial that you get time under the sun safely and comfortably. The only problem with this is that not all DIY renovations are successful. If you find that yours didn't turn out the way you envisioned it, then it's crucial to pinpoint the exact reasons.   Even an aesthetically pleasing landscape and patio can fail to meet your needs, which is why it's important to assess your work now and invest in the right solutions.
In case you're not sure where to begin, here are five of the most common mistakes worth noting:
Forgetting to Clean Thoroughly
If it's been a while since you last cleaned your patio or deck, then you've got your work cut out for you. Certain flooring or pavers can accumulate a lot of grime and build up over the years, and your average household tools might not suffice to remove them.
Dirty flooring is unpleasant and hazardous. It can significantly detract from your outdoor experience, especially when it becomes a hot spot for accidents and allergies. The solution is to either rent the machinery you need or hire professional cleaners to do the job for you. Whichever is cheaper or convenient depends on what's available in your locality. Should you go for professional cleaning, however, you can be guaranteed excellent results in just a short span of time.
Clean flooring will bring out the beauty of your hardwood or pavers and amplify the appeal of your outdoor experience. Moreover, it's a lot safer for you, your kids, and even your pets.
Lack of Proper Shade
Basking in the sun can be enjoyable only sometimes. Apart from the sun hurting your eyes, it will also expose you to risks that can lead to diseases such as skin cancer. Overexposure to sunlight may also lead to the rapid deterioration of your furniture and decors. As such, you'll want to get the right patio awnings installed for sufficient shade.
The one you currently have might not be enough to do the job if you experience certain discomforts. Check to see the specifications your outdoor space really needs. Perhaps you'll do better with something longer, wider, or made of a different material. There's also the matter of installation. Getting professional help to set up your awnings can improve their performance and lifespan in the long run.
Wrong Furniture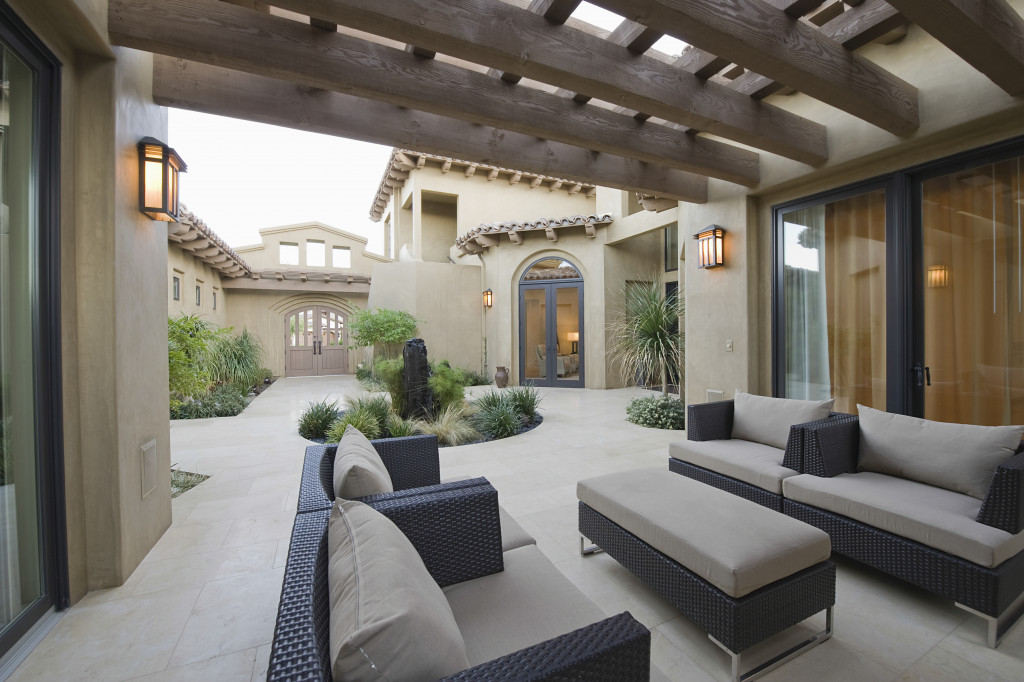 One of the biggest mistakes people make is purchasing indoor furniture for their outdoor space. While some indoor furniture can survive outdoors, it's unlikely that it'll last for a long time without showing signs of wear and tear. The colors will likely fade, and the cushions won't be comfortable to use due to the way they react to hot and cold weather.
To make your investment worthwhile, always go for furniture that is suitable for your specific climate and activities. Some of the best all-weather furniture materials you'll find include metal, Shorea, and White Oak. As for the cushion, go for something that is made of foam, dacron, or polyester fill. It's also better to go for waterproof cushions than water-resistant ones, especially if you experience heavy rains. Water-resistant materials will shed moisture but it could absorb the water during an outpour.
Poor Plant Choice
Your outdoor space can also be uncomfortable due to your poor plant choices. It could be that you overcrowded your patio, or you chose species that trigger your allergies. Perhaps they attract too many insects, which makes dining al fresco inconvenient.
Some homeowners forget to plant strategically, leaving their landscape bare and depressing in some seasons. You can avoid this by plotting out your landscape with plants that bloom all year round. This way, you can look forward to different but equally compelling sceneries whenever you spend time outdoors.
Failing to Update
Sometimes, simply cleaning your outdoor space won't be enough. Outdated pavers, lighting, sidings, and awnings are unpleasant and unreliable. Know when something needs to be updated, and invest in quality replacements. This might mean being unable to renovate your entire outdoor space at once if you're on a budget. That's alright. What's important is that you put your money where you'll get the best value for it. Otherwise, you'll find yourself spending more in the long run.
What complicates this project is the prevalent misunderstanding people have about outdoor spaces. You can focus too much on aesthetics that you forget the significance of function. Making decisions that balance both is critical to a successful renovation.