Select a venue that reflects personalities, accommodates guests, and offers excellent amenities and breathtaking views.
Create thematic, personalized decor and floral arrangements that add elegance, color, and texture to your venue.
Incorporate diverse music genres and entertainment ideas, crafting a memorable playlist that resonates with everyone.
Personalize elements of your wedding, offering customized favors and exploring unique alternatives to traditional guest books.
Consider incorporating diverse world wedding traditions, cultural rituals, and unique ceremony ideas for a memorable experience.
Weddings hold immense significance in women's lives, marking a momentous milestone. For many, this exceptional occasion symbolizes the commencement of a new chapter with their partner, and their desire for perfection knows no bounds.
It is a day that cannot be replicated, where every detail matters and women strive to create an unforgettable and enchanting experience. From meticulously selecting the venue to curating the finest entertainment and decor, every aspect is thoughtfully planned to ensure an impeccable celebration.
The importance of weddings to women's lives cannot be overstated. This extraordinary event is a testament to their commitment and love, embodying their hopes and dreams for the future. It is an opportunity to create lasting memories and celebrate the union with loved ones.
With meticulous attention to detail, women endeavor to orchestrate a flawless day that reflects their unique style and personality. Every element is carefully considered to bring their vision to life, from the grandest gestures to the tiniest details. In pursuing perfection, women pour their hearts into planning their wedding day.
It becomes a labor of love as they navigate the choices and decisions shaping this unforgettable occasion. The bride's vision takes center stage as she aspires to create a magical atmosphere that captures the essence of her love story. This blog post will discuss how to craft the perfect day and help women plan their dream weddings.
Designing Your Dream Celebration
To craft a perfect day, you must first envision your dream celebration. Take time to reflect on what truly matters to you and your partner. The following tips will help you make informed decisions when selecting ideas for your wedding:
Choosing the Ideal Venue
Your venue choice will set the tone for your wedding day. Consider the number of guests you expect, the location, and whether you want an indoor or outdoor wedding. It is essential to pick a place that reflects your and your partner's personalities and values. The perfect venue should offer excellent amenities, breathtaking views, and ample space.
Design and Decor
The decor and design are essential elements that can transform any space into a beautiful wedding venue. Select colors, textures, and fabrics that align with your theme and mood board. The decor should be cohesive, elegant, and personalized. You can hire a professional decorator or do it yourself if you have a vision you want to execute.
Floral Arrangements and Centerpieces
Flowers are an essential part of any wedding celebration. Add color, texture, and elegance to your space. Choose seasonal flowers that match your theme, color scheme, and budget. When selecting floral arrangements, consider the number of guests, table sizes, and venue space.
Music, Entertainment, and Discography
Music and entertainment are essential for creating an unforgettable wedding experience. Every note adds magic to the celebration, from enchanting melodies during the ceremony to lively beats on the dance floor. Here are some things to consider when selecting music and entertainment for your big day:
DJs and Live Music
Your music choice should reflect your style and set the mood for the event. Skilled wedding DJs have an extensive repertoire and can play a wide variety of music genres, ensuring there's something for everyone to enjoy on the dance floor. When deciding, consider the type of atmosphere you want to create, the DJ's experience, genre preference, availability, and price.
Crafting a Memorable Playlist
Crafting a memorable playlist is essential to creating the right wedding atmosphere. Select songs that resonate with you, your partner, and your guests. You can mix songs from various genres to ensure everyone enjoys the music. Discuss your preferences with your DJ or band and work together to create a playlist.
Entertainment Ideas for Guests
Offering various entertainment options for your guests is a great way to ensure everyone has an excellent time. You can set up games, photo booths, or a dance floor. You can also have a bartender offer a signature cocktail bar or a dessert bar with different cuisines. The possibilities are endless.
Personal Touches and Unique Ideas
Adding personal touches and unique ideas to your wedding day will make it an unforgettable experience for you, your partner, and all your loved ones. Imagine walking down the aisle, surrounded by stunning floral arrangements carefully chosen to represent your love story. Consider incorporating the following:
Customized Favors and Keepsakes
Give your guests something they can take home to remember the special day. You can personalize items such as candles, coasters, or chocolates. Making some elements of your wedding yourself adds a personal touch. It could be creating centerpieces, invitations, or even decorations.
Guest Book Alternatives
Traditional guest books are a thing of the past. Consider alternative options like puzzles, picture frames, or wishing trees where guests can write messages. It adds a unique touch to your wedding day and makes for an excellent keepsake.
Unique Ceremony Ideas
Think outside the box when planning your ceremony. You can incorporate cultural or religious traditions, have a theme wedding, or even include surprise elements like flash mobs or choreographed dances.
Wedding Traditions from Around the World
Weddings, the joyous union of two souls, are celebrated in diverse ways worldwide. Each tradition has a unique charm, from vibrant cultural rituals to enchanting customs. Incorporate these practices to embrace diversity and create a memorable experience for everyone involved.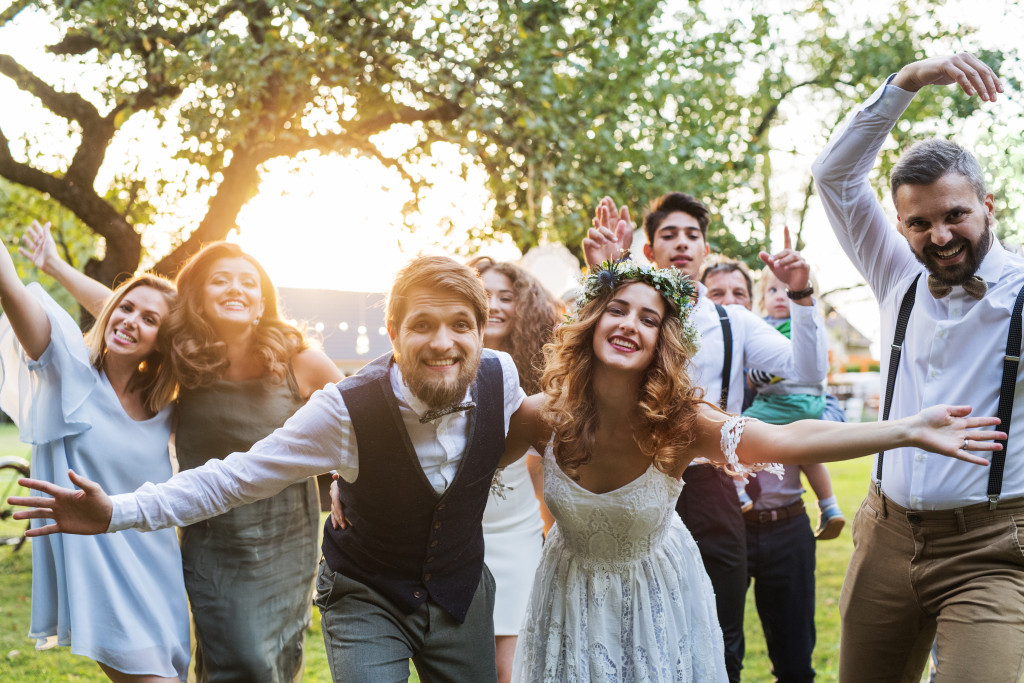 Crafting the perfect wedding day is as much about the journey as it is about the day itself. From selecting the ideal venue to designing beautiful decor, arranging delightful music, and adding personal touches, each decision contributes to creating a celebration that reflects your unique love story.