Buying a house is one of the most significant decisions a married couple will make. It's also one of the most complicated, as so many factors exist. This blog post will help you figure out if you're ready to buy a house as a newly married couple. You'll learn about the things you need to consider, from your finances to your lifestyle. So let's get started!
Consider Your Financial Situation
The first thing you need to do is take a good, hard look at your financial situation. This includes your incomes, debts, savings, and credit scores. You'll need to clearly understand your financial status before you can move forward with buying a house.
If you're unsure where to start, sit down with your spouse and create a budget. This will help you better understand your monthly expenses and what you can realistically afford in a mortgage payment.
Once you have a budget, you can start looking at homes in your price range. It's also important to consider the other costs associated with buying a house, such as closing costs, property taxes, and homeowners insurance. These can add up quickly, so factor them into your budget.
Save Up for a Down Payment
Ideally, it would be best if you aimed to save 20% of the home's purchase price for your down payment. This may seem like a lot, but it will help you avoid paying private mortgage insurance (PMI). If you can't reach the 20% mark, don't despair. There are still options available to you. You may be able to get a conventional loan with a lower down payment, or you could look into an FHA loan, which only requires a 3.5% down payment.
Whatever route you decide to take, make sure you have a solid plan in place for saving up the necessary funds. This may mean making some sacrifices in your monthly budget or taking on a side hustle. But in the end, it will be worth it when you're finally ready to buy your home.
Think About Your Future Plans
When you're buying a house, you're not just buying a property — you're making a long-term investment. Therefore, considering your future plans is important before making such a big purchase. Are you planning on starting a family in the near future? If so, you'll need to make sure the house you choose can accommodate a growing family.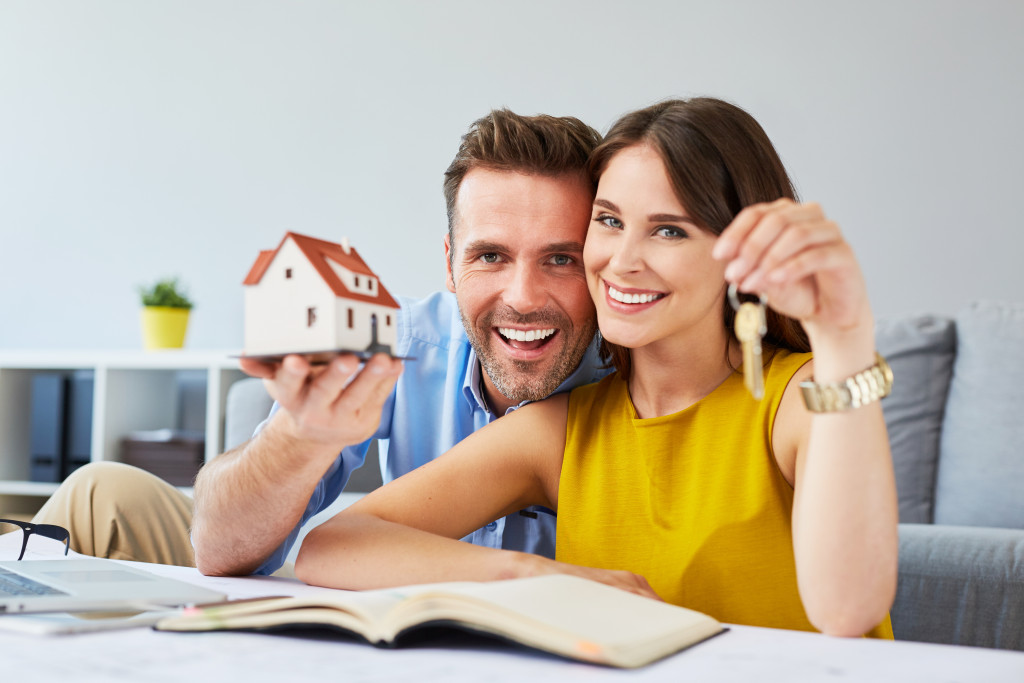 Do you plan on staying in the same area for the foreseeable future? If not, it may be a better idea to wait to buy a house until you're more settled. There's no point in buying a property, only to sell it a few years down the road.
Look for a Home That Meets Your Needs
Of course, you also need to make sure the house you're buying is actually the right one for you and your spouse. This means finding a property that meets all of your needs, both now and in the future. You'll need to decide on the must-haves for your new home. These could include things like a certain number of bedrooms, a backyard, or a short commute to work.
Once you've determined your must-haves, you can start looking at homes that fit those criteria. Property for sale listings is a great place to start your search. You can also work with a real estate agent to help you find the perfect property. Not only will they be able to provide you with a list of homes that match your needs, but they can also offer guidance and answer any questions you have along the way.
Work with a Financial Advisor or Mortgage Lender
The process of buying a house can be daunting, especially if you're doing it for the first time. That's why working with a financial advisor or mortgage lender is a good idea. They can help you better understand the ins and outs of buying a house and guide you through the process, step by step.
You can find a financial advisor through the Financial Planning Association or the National Association of Personal Financial Advisors. As for mortgage lenders, your best bet is to shop around and compare rates from different lenders. Once you've found a few that you're interested in, be sure to ask about their down payment requirements, closing costs, and interest rates.
There you go! These are just a few things to keep in mind when buying a house as a newly married couple. By taking the time to consider all of your options and make a well-informed decision, you'll be sure to find the perfect home for you and your spouse. Happy house hunting!