The bridal shower is a celebration of the bride-to-be. It's a time for guests to come together and show love and support to her as she gets ready for one of life's most exciting journeys. But it can also be stressful, especially if you're unsure what you should do or say.
To alleviate some stress on this particular day, know how to host or attend a bridal shower without any issues and what approach the guests should take to prevent problems.
What Should You Do for the Bride-to-be?
There's no need to spend a lot of money on a bridal shower. You can still make the evening fun without going extra.
For one, you can play different games. One example is the bachelorette version of The Newlywed Game, wherein guests ask questions that the bride's groom might not know. It requires a video of the groom answering the questions beforehand to see if they match the bride's answers.
Another idea is to have a spa day. This can be enjoyable for her loved ones as they can receive any beauty treatment they like. This approach can have people talk about your party as the best for years to come.
After that, why not have ave a tea party with tea and light snacks? Invite a couple of friends to help you cook and set up. You can make them try their hand at baking or cooking something delicious for the bride-to-be. You can also have guests bring food to share for a fun gathering.
Remember to set up an area for guests to put their gifts as well so that they can be in the spotlight as they are opened. A separate hallway or room can be suitable for this purpose.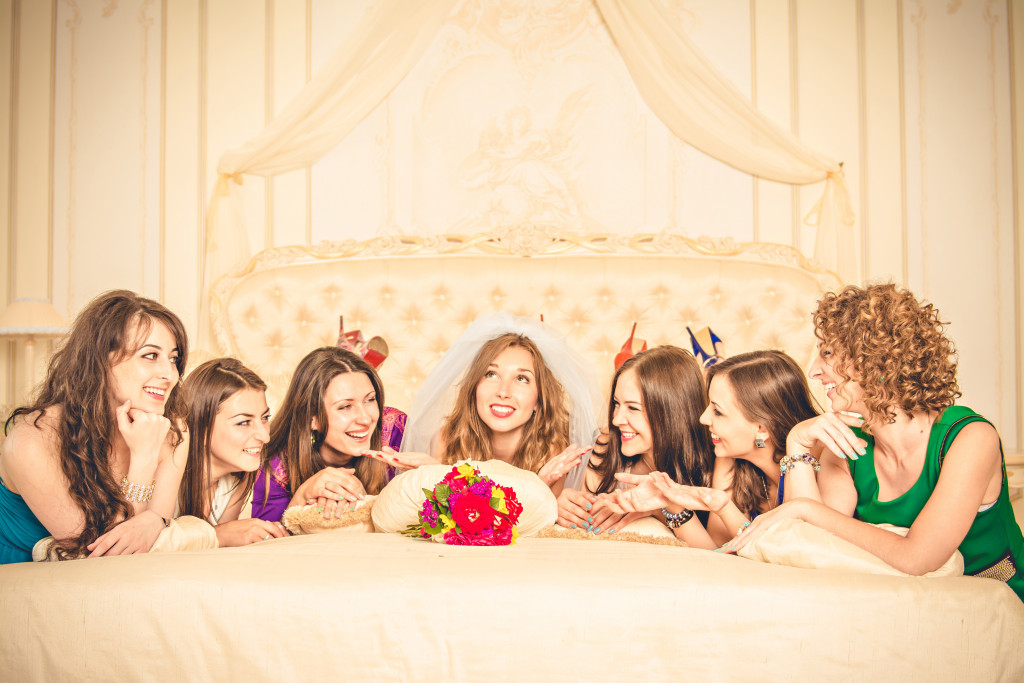 Avoiding embarrassment
No one wants to make the bride-to-be uncomfortable during the bridal shower. So you and the guests should ensure that she doesn't feel embarrassed or awkward.
On that note, know how many people are to avoid buying too much food or drinks (if you don't go for a potluck). If there is one thing that will stress you, it's running out of what to eat or drink. Get the beverages and light snacks set up before everyone arrives so that you don't have to worry about distracting people when they come.
If the party is at your house, it's better not to have it in an area that's too small or difficult for guests to get around. If possible, opt for an open space, preferably your backyard or a patio. Don't forget to have a handful of games and activities for guests so that they can do something while waiting.
When having a bridal shower at home, keep in mind that all rooms must be left tidy before people arrive and after they leave. This will leave them feeling cozy without being uncomfortable with anything dirty they might see on, say, the living room walls or shower doors.
If it's winter,  make sure the house is warm enough. You don't want anyone to get sick after having some fun time with the bride-to-be.
Additional pointers for all attendees:
Don't forget to bring a gift if you're attending. This is when bringing something isn't optional unless the bride tells everyone she doesn't need presents. It's always a good idea to have something, whether a card or even some flowers.
Don't overdo your outfit. Your clothes should match the theme of the shower. For instance, if you're going for retro, don't show up in casual clothes like a hoodie and jeans.
Don't feel like you have to be the one who does all the talking. This is your chance to get to know other people, so take advantage. You might end up meeting someone you can become close with. You can even break the ice by introducing yourself and asking people about themselves.
Most importantly, do not forget the bride. Remember, she's who you're there for. Provide whatever she needs; catch up with her if you haven't seen each other for a long time. Make sure you make this day an unforgettable event for her as one of her last days as a single woman.
While it may be hard to do with all that life throws these days, you can try your best not to stress over hosting or attending a bridal shower. You can do something unique for your loved one. For that, you can be proud of yourself and her. With the pointers mentioned above, you can have fun at her shower and make the day truly memorable.