When it comes to foodies, the saying "the way to a man's heart is through his stomach" doesn't only go for men but also for women. When you've removed your perfectly-fitted gown and Spanx or corset, there's no better opportunity to indulge—like, genuinely indulge in anything you want to eat.
However, bulimia can sometimes be such a pain on rare occasions like these. If you're dealing with this eating disorder, be sure to get proper treatment for bulimia so you can freely delight in all the food you've been repressing.
Tokyo, Japan
The Japanese are well-known for making something better. The most authentic coffee outside of Colombia, the best Chinese food outside China, the most delicious pizza outside New York, and the most scrumptious Italian recipes outside of Italy will be available to newlyweds in Tokyo. This country takes everything very professionally, and they have a philosophy of "we have to do it better!"
For this reason, there are more Michelin-starred restaurants here than anywhere else in the world (99 in New York vs. an outstanding 305 in Tokyo). Their culture revolves around food. Not to mention the local fair, where you'll find some of the greatest tempura, sushi, and ramen you've ever tasted in your entire life.
Vienna, Europe
In addition to being the most romantic of all the cities in Eastern Europe, Vienna's central location makes it a great place to start your honeymoon before visiting other countries. Your new wedding rings will sparkle as you tour the city's attractive streets. You and your husband will indeed feel the love in the atmosphere with Vienna's warm approach to tourists. Visit the Ritz-Carlton, where you'll find Dstrikt Steakhouse for a classic meal.
They offer a new spin on the traditional schnitzel, making it more enjoyable. They serve the schnitzel 'ur' (on the bone), giving it a unique flavor. You can get the cheesecake if you still have room after you've eaten your fill of the side dishes, such as carrots and fries. You know it's good because the pastry chefs tried almost a thousand recipes before settling on this one.
Sicily, Italy
Your fantasy honeymoon can include sunning on the beaches of the Mediterranean. If it does, then head to Sicily. Pristine beaches, turquoise waters, sunset cruises, and white cliffs through stunning island chains — you'll find everything you need for a romantic honeymoon.
Also, don't forget Sicily's mouth-watering pasta, spaghetti, and sweets. Isn't that perfect? Due to its rich soil, Sicily is an agricultural hotspot that produces fruits and vegetables of high quality. And since seafood is a vital part of Sicilian cuisine, keep in mind to have a candle-lit dinner with seafood as the main courses at one of the coastal resorts in the area!
Buenos Aires, Argentina
South America's most romantic city, Buenos Aires, is a must-see. Think gorgeous architecture, lively balconies, cobblestone streets, and plazas and squares when you picture the city. Hopefully, you enjoy steak since you'll be eating a lot of it during your time here. Argentine cuisine is noted for its beef-centric diet, which some claim they have mastered (BBQ meat or asados, chorizo, and ribs).
However, this does not mean that they are unable to prepare excellent Italian cuisine, for which they are equally well-known. The U.S. dollar also has a favorable exchange rate (some five-course meals only range about $50 per head). Moreover, Argentine wine is renowned for its quality and affordability, so a trip to a nearby winery (such as Mendoza) should be on your schedule.
Santorini, Greece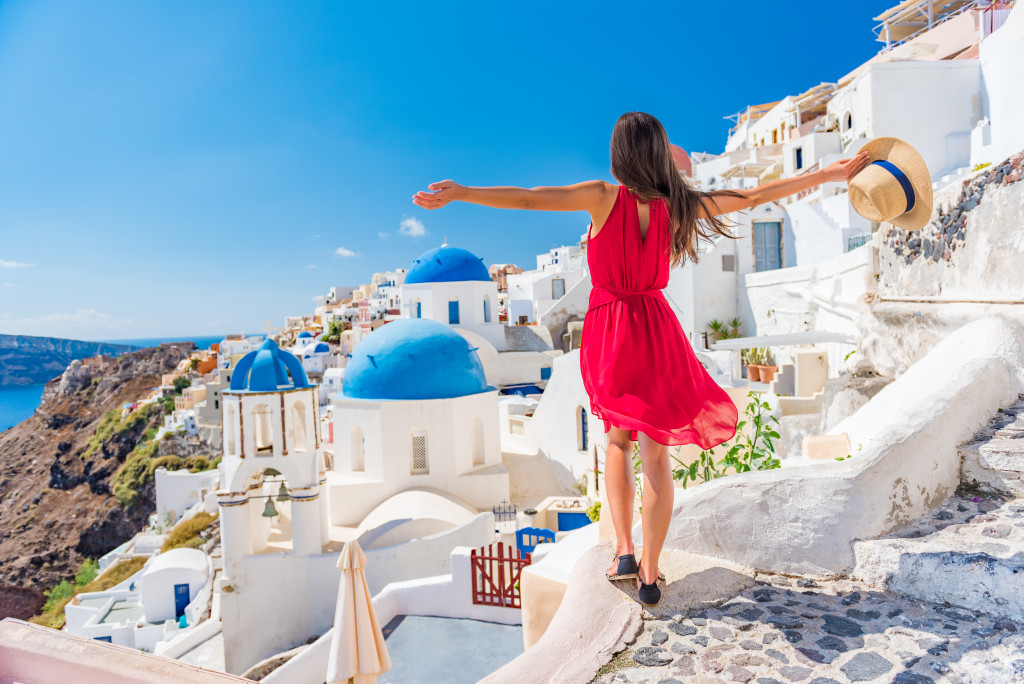 At Santorini, no trip to the Greek islands is complete without seeing the sunset in the notorious Oia. You and your new husband may fall in love all over again while being in this sanctuary with its colorful sunsets, magnificent vistas of the Icarian Sea, and fresh, white wine. The Lauda Restaurant is recommended by the owner of Over the Moon Vacations, Allison Kobasky.
On a white patio filled with gorgeous flowers, make a toast to your marriage's future while watching the sunset over the open sea. Allison also recommends ordering the octopus, which is fished fresh in the morning and prepared by award-winning chefs on-site. They slow-cook it for five hours until they serve it to your table.
As you can see, these destinations take culinary arts very seriously, and many of them offer the chance to learn new skills that you can take home as a memorable keepsake, so your husband is left without excuses for not making you a delicious meal at a moment's notice! Indulging in delicious food with the person you'll be spending your life with is a different kind of joy, and doing it while on your honeymoon makes it one of the best adventures you'll ever experience.