Now that you've decided where to spend your honeymoon, you've booked your hotel and airfare. So, what should you do after arriving at your destination, exactly? Honeymooners should settle on their expectations and intended overall vacation feel before planning a honeymoon itinerary. To achieve this, you will have to include a combination of romantic and adventurous activities. Follow the steps below for advice on how to arrange the ideal honeymoon getaway.
Consider the Availabilities of Your Destination
Naturally, the activities you partake in will be dictated by your destination. However, you'll undoubtedly be busy touring if you're in New York, but you can also go on a safari in South Africa. When visiting the Napa Valley in California, you may want to take a hot air balloon trip; but, if you're visiting Bali or Thailand, you'll be tempted to the outdoors to visit places with exquisite fauna and flora. Seize the opportunity to visit a natural site such as hot springs, waterfalls, or caves underwater.
The main reason newlyweds travel to the Caribbean is to focus on unwinding. Wellness-focused locations and spa treatments are excellent ways to reset hectic lives. Take into account the season of the year while deciding on a trip. For example, when it comes to dolphin or whale-watching, there are only specific months when it is feasible.
Know What Your Resort or Hotel Offers
Review the website or hotel to find out what adventures and facilities they offer. The cost of non-motorized water sports is often included in all-inclusive resorts, especially if you bought a packaged ticket. There's snorkeling, paddle boarding, Hobie cats, and sometimes kayaking. Packages given by hotels in towns and cities may include bus tickets, museum admission, or house tours.
Try New Adventures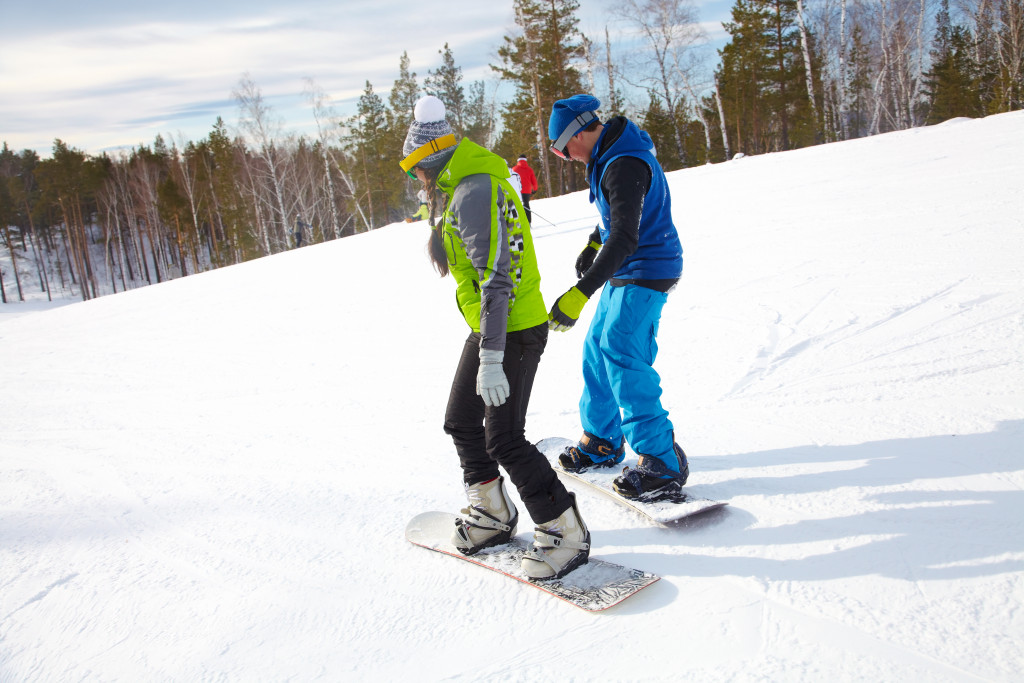 There are a wide variety of exciting activities available, depending on the location and physical level of the participants. If you're an active couple, you and your husband can go hiking, kayaking, snorkeling, biking, horseback riding, ATVing, skydiving, zip-lining, and white water rafting if you have the funds. Think about hiking early in the morning to see the sunrise or camping out. Explore recommended routes and adjust your course to your level of fitness for the best possible outcome.
In addition to parasailing and jet skiing, your resort may also offer scuba diving. Swimming with dolphins or rappelling down a waterfall are examples of activities that may be done outside of the resort. Try to have a bucket-list experience as part of the journey. In the Maldives, several couples have dined underwater in their gorgeous restaurant, cruised Capri's Blue Grotto, and taken helicopter rides in Las Vegas and Maui.
Do Romantic Things
It's lovely to do something secret and exclusive. If you're looking for something a little different, you may try a couple's cooking lesson or a horseback ride. Trying out chef's tables for a romantic dinner restaurant is also often on the list of must-dos. You should take advantage of the fact that twilight and daybreak are romantic by design. You can try yoga sessions for early risers and sunset catamaran cruises if you and your husband are interested.
Alternatively, you may ask your resort or hotel for help in organizing romantic activities. Tell the management you'll be visiting during your honeymoon by calling the hotel ahead of time and informing them of your plans. There is a good chance that they can organize some added romantic excursions for you, such as breakfast in bed, a candlelit supper on the beach, a Jacuzzi bath flowered with rose petals, and a Champagne at the side, or a cruise at sunset. A couple's massage on the beach may also be included in your lodgings package.
Wherever you are on your honeymoon vacation, try to find hobbies that help you sit back and enjoy each other's presence.
Plan for Downtime
Another piece of advice is not to overdo it. If you're going to be active for two days, try to relax the next day to aim for that 2:1 ratio. Understandably, most couples want to get as much out of their honeymoon as possible, but it's often better to take it easy and enjoy the moment. Newlyweds will appreciate the opportunity to relax by the pool or have room service delivered.
You'll be even more fatigued after an extended honeymoon itinerary if you don't keep it short and sweet. Furthermore, you'll want plenty of time to visit locations that aren't on your schedule. To be on the safe side, though, it's still advisable reserving any excursions, transportation, hotels, and any establishments that need reservations before visiting.