Most kids love spending time outdoors, and there are plenty of fun backyard ideas that will keep them entertained for hours on end. From building a tree house to creating a mud kitchen, these projects are sure to please any child. Plus, they provide a great opportunity for parents to get involved in their children's lives and spend some quality time together. So, if you're looking for ways to make your backyard more kid-friendly, check out these ten great ideas.
1. Build a Tree House
Every kid dreams of having their own tree house, and this is a project that both parents and children can enjoy together. Just make sure to choose a tree that is strong enough to support the weight of the tree house, and be sure to follow all safety precautions when building. You can also get creative with the design and add features like a rope ladder or swings.
2. Create a Mud Kitchen
This is a great activity for kids who love to get messy and use their imaginations. All you need is a few old pots and pans, some soil, and some water, and your little ones will be in mud heaven. You can set up the kitchen anywhere in your yard and let them play to their heart's content. You can even add some old kitchen utensils for them to use.
3. Build a Sandbox
A sandbox is a great way to keep kids entertained, and it's also relatively easy to build. You can find plans for sandboxes online, or you can just build one yourself with some lumber and sand. Just make sure the sandbox is in a shady spot, so the sand doesn't get too hot. And, don't forget to add some toys for the kids to play with.
4. Make a Garden
Kids love helping out in the garden, and it's a great way to teach them about nature and where their food comes from. Let them help plant the seeds, water the plants, and harvest the vegetables. You can even let them pick out their own plants to grow. Make sure to have a kids' garden that is fenced in, so they can't wander off.
5. Set Up a Slip 'N Slide
This is a classic summer activity that kids never seem to tire of. All you need is a long plastic sheet and some water, and you're good to go. You can set up the slip 'n slide on any flat surface, and kids will have a blast sliding down over and over again. You can make it even more fun by adding soapy water or sprinklers.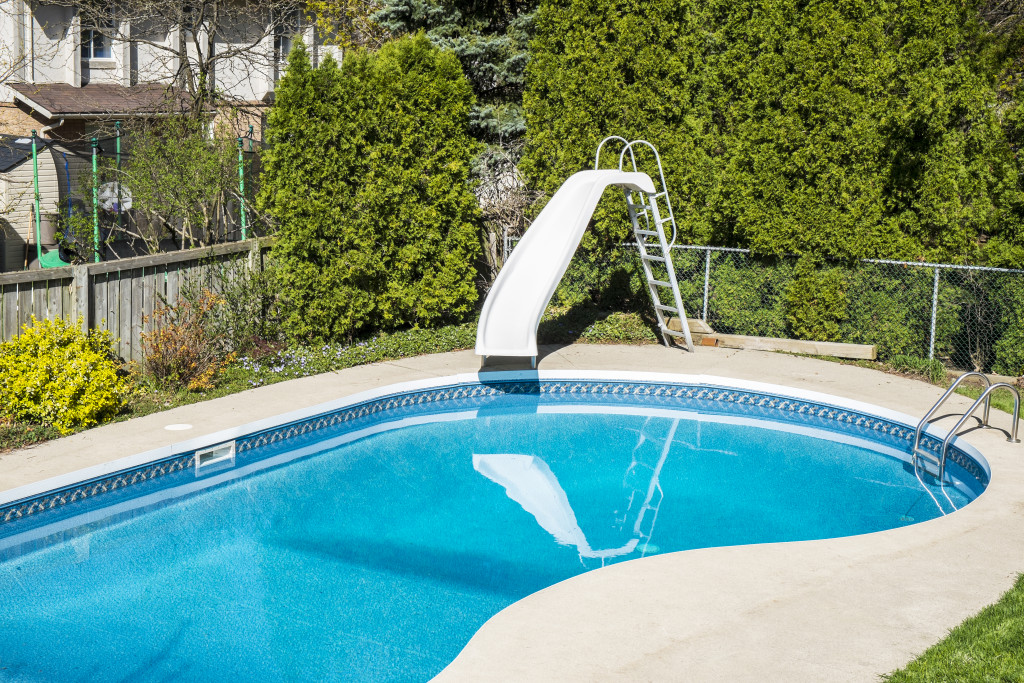 6. Covert the Patio Into a Movie Theater
Patio-building ideas don't have to be complicated. Sometimes the simplest ideas are the best. If you have a patio, you can easily turn it into an outdoor movie theater. Just set up a projector and screen, and you're all set. You can even make it more comfortable by adding some pillows and blankets. Also, don't forget the popcorn!
7. Make a Water Balloon Piñata
This is the perfect activity for a hot summer day! Simply fill up some water balloons, tie them to a tree or clothesline, and let the kids take turns hitting them with a stick. Once all the balloons are popped, they can enjoy the treats that were inside. You can also use water balloons to play other games, like target practice or a game of catch.
8. Transform Your Yard Into a Mini-Golf Course
With a little bit of imagination, you can easily turn your backyard into a mini-golf course! All you need are some inexpensive tools and materials, and you're good to go. Simply set up some obstacles (hula hoops, plastic buckets, etc.) and use them as the holes. Then, grab some golf clubs or even just some sticks, and let the kids have a blast.
9. Paint With Water
Backyards are the perfect place to let your kids be messy and have fun. All you need is a bucket of water and some paintbrushes, and they can paint to their heart's content. If you want to get really creative, you can add food coloring to the water for some vibrant colors.
10. Have a Scavenger Hunt
Scavenger hunts are great for kids of all ages. You can hide items around the yard and give the kids a list of things to find. Or, you can make it more challenging by giving them clues to follow. Either way, they're sure to have a blast searching high and low for the hidden treasures.
There you have it—10 fun backyard ideas that your kids will love. So, get out there and get creative! And, most importantly, have fun!