Wedding planning can be a daunting task, but it doesn't have to be. If you take things one step at a time and focus on the most important aspects, you'll be able to plan a beautiful wedding that you and your guests will remember for years to come. One of the most important aspects of any wedding is the bride's look. Every bride wants to look her best on her big day, and there are a few things you can do to make sure you look gorgeous.
Pick the Right Dress
The first step to looking gorgeous on your wedding day is to pick the right dress. It should be a dress that makes you feel beautiful and confident. If you're not sure what style of dress you want, take some time to look through magazines or search online for inspiration. Once you have an idea of the style you want, start shopping around. Schedule appointments at bridal shops and try on a variety of dresses until you find the perfect one.
Get Your Hair and Makeup Done Professionally
With your dress taken care of, it's time to focus on your hair and makeup. If you're not confident in your ability to do your own hair and makeup, it's worth it to splurge on a professional stylist. They'll be able to give you a perfect look to complement your dress and make you feel like a million bucks. You can even schedule a trial run before the big day to make sure you're happy with the results. This is one area where you don't want to take any chances.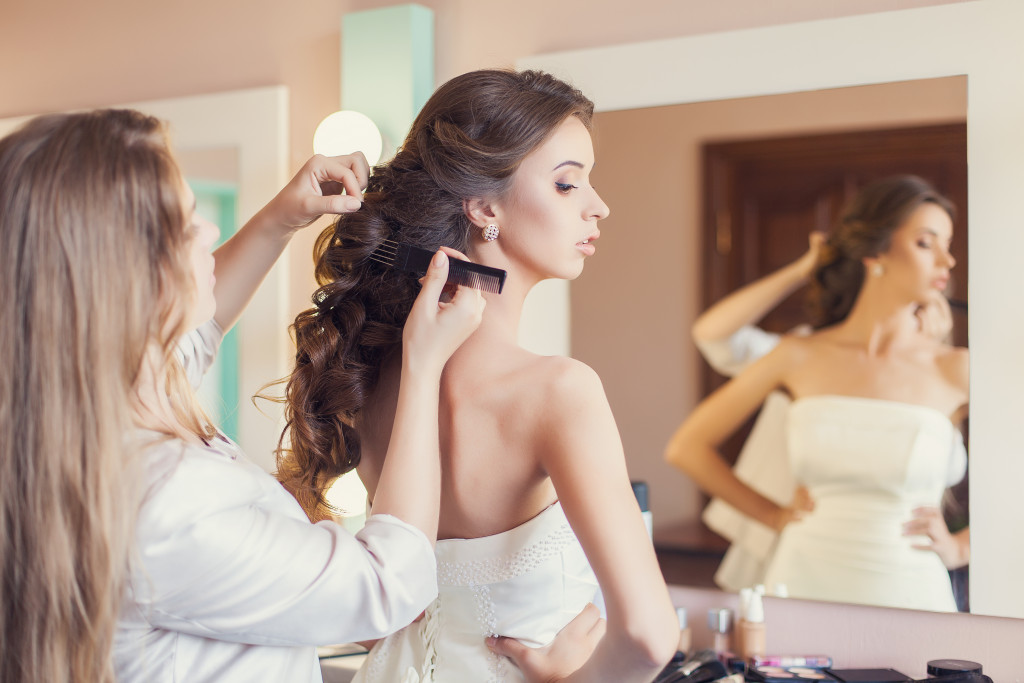 Accessorize With Care
Your wedding dress is the star of the show, but the right accessories can make you look even more gorgeous on your big day. Here are a few tips to keep in mind when accessorizing for your wedding:
Choose your jewelry carefully. If you have a simple dress, statement jewelry can really make you stand out. But if your dress is already pretty embellished, then you might want to go for more understated jewelry.
The right shoes can make a big difference. You'll be on your feet all day, so make sure you choose a comfortable pair of shoes. But that doesn't mean you have to sacrifice style. There are plenty of beautiful and comfortable wedding shoes out there.
Don't forget about your veil. A veil can really complete your look and make you feel like a true bride. But again, less is more when it comes to veils. If your dress is already pretty ornate, then a simple veil is all you need.
Get a Picture-Perfect Smile
Don't forget about your smile! This is your big day, so make sure you have a smile that looks just as good in pictures as it does in real life. If you're not happy with your teeth, there are a few things you can do to get a picture-perfect smile. For example, if you have overcrowded teeth, you might want to consider getting an arch expander. This simple device can help to create more space in your mouth, giving you a straighter and more attractive smile. Your smile is one of the first things people notice about you, so make sure it's looking its best for your wedding day.
Get in Shape
It's not all about how you look on the outside. Feeling comfortable and confident in your own skin is just as important. If you're not happy with your weight or fitness level, start working on it now. Even if you only have a few months until your wedding, you can make a big difference by making small changes to your diet and exercise routine. The better you feel about yourself, the more confident you'll be on your big day.
Put Together a Wedding Day Survival Kit
No matter how well you plan, there's always a chance something will go wrong on your wedding day. That's why it's a good idea to put together a wedding day survival kit. This should be a bag of all the essentials you might need, including things like Band-Aids, safety pins, a sewing kit, and snacks. Having this bag with you will help you to be prepared for anything that comes your way.
Phew! That's a lot of information to take in. But if you follow these tips, you'll be sure to look gorgeous on your wedding day. Just relax and enjoy this special time in your life. Before you know it, you'll be walking down the aisle looking like a total knock-out!