When all the "I do's" are said and done without a hitch, the next long-term plan in married life is settling down and planting roots within a community, within your home. If you can get through the stressful ordeal of planning a wedding, reception, and honeymoon, home planning will be a piece of cake, even with the additional factors to consider.
As adults and newlyweds, it is important to invest your time and money strategically and efficiently while getting your desired results. In getting your dream home, here are things that you must consider doing first.
Think long-term and plan your home design.
Life is unpredictable, and changes often come along when least expect them. However, it's important to ask yourselves a few questions about your future. Where do you see yourself in the next few years? Would you have any career change soon? How often do you see you or your partner changing locations due to work-related or family-related responsibilities? Do you plan to have pets or kids anytime soon?
Asking these kinds of questions helps you gauge what kind of home setup and design would best suit you and your family. You must be able to identify all the family member's needs for your home. Some examples include considering having a house with multiple rooms if you plan to have kids or plenty of regular guests. Opt for a convenient, cozier space if you don't plan to ever have children. Consider a pet-proof home with all the right amenities, such as an open yard, to integrate them into your home life.
This should be done in an organized manner to avoid having a hotpot of ideas that lack cohesiveness. It's time to think of the themes you want for your home. Have a color scheme in mind or a central concept that you want to follow so that you can list down what items you would need to purchase eventually.
Look online or consult with real estate agents for ready homes or apartments that fit your needs. If you're looking into having a home built from the ground up, search for engineers, architects, interior designers, and other professions involved with building homes. You can also try getting in touch with a design-build firm that can help put your home vision into reality.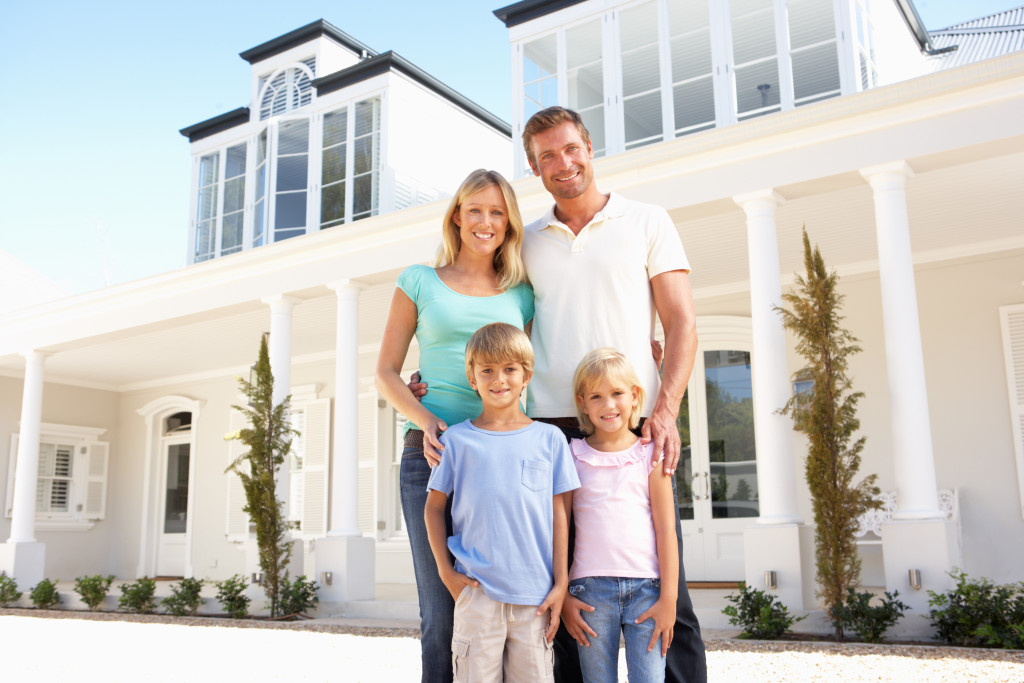 Save up and stick to your budget.
Money makes the world go round, including your home plans. Allocate a portion of your salary for your future home. Work extra and find other ways to generate more income to have a steady cash flow that could speed up your budget goal.
Stick to your budget religiously, regardless of your faith or lack thereof. Never bite off more than you can chew. Putting upgrades and more amenities might have been a sound idea when you first conceived it, but ask yourself if you need them immediately or not. Some home designs and features can be installed, bought, and planned for later on. The goal is to have the foundations and beginnings of your dream home as soon as you can.
Do a bit of webrooming and search for the costs and quality of the materials and items you want to include in your home so that you can find cheaper or better alternatives to what you have initially decided on. Be open and flexible to a few compromises when need is, but do not make your budget flexible if you cannot afford to.
Research the area beforehand.
When settling down somewhere, it will be for a long period, if not for a lifetime. Research the area where you want to plant your roots. Consider its distance from your workplace and family. Consider how near it is from the local police station, mall, stores, gas station, and diners. This is to prepare in making all the necessary adjustments you might have to go through in the long run.
Know how safe the area is as well. If possible, visit it beforehand and try to memorize the roads and topography. Building your home somewhere is a major step in life and how you go about it matters a lot.
Know the neighborhood.
When you're finally sure of where you want to start your home and married life and already have the first parts of your plans in action, then it's time to know the neighborhood itself. Gradually introduce you and your family to the community so that they can get accustomed to your presence.
Learn their customs, participate in activities, and don't be afraid of getting to know the neighbors. Especially when you're in a new place, it helps to know a few people around that can give a hand from time to time.
Home planning can be a nerve-wracking experience at times, but it doesn't have to be when you are well-prepared for the possible outcomes.