As a new year approaches, it's the perfect time to spruce up your home and make sure it looks its best. You want to welcome in the new year feeling refreshed and organized, and there are a few simple things you can do to make your home feel brand-new. Here are some tips on giving your home a fresh start and ensuring it's ready for all of the special moments that 2021 has in store.
1. Declutter & Organize
The first step is to declutter and organize your space. Start by going through every room and removing anything you don't need or use anymore. This could be clothing, furniture, décor, or even knickknacks – anything you don't need should be donated or thrown away. Once you've cleared out any unnecessary items, find ways to organize whatever is left. Consider investing in storage bins or containers, shelf organizers, and other organizational tools to help everything have its own place.
Many people also find it helpful to go through their closets and drawers to see if any items can be donated or thrown away. This will help you make room for new things that you may get in the new year and also help your home feel fresh and clean. Try color-coding items or rearranging furniture to maximize space and create a more efficient layout.
2. Refresh & Rejuvenate
Because we all love a good refresh every once in a while, try sprucing up your home with new paint colors or decorations. Adding a new piece of art or swapping out an old throw pillow can instantly transform the look of any room without breaking the bank. You can also add plants or flowers throughout your house as an inexpensive way to bring color into any space.
If you want to go bigger than that, consider repainting a room or two. Pick out new colors that make you feel energized and excited – even something as simple as painting an accent wall can completely change the look of a room. If you're unsure how to start, you can hire professional house painters to help you with the process. They can even suggest colors and patterns that will best suit your home.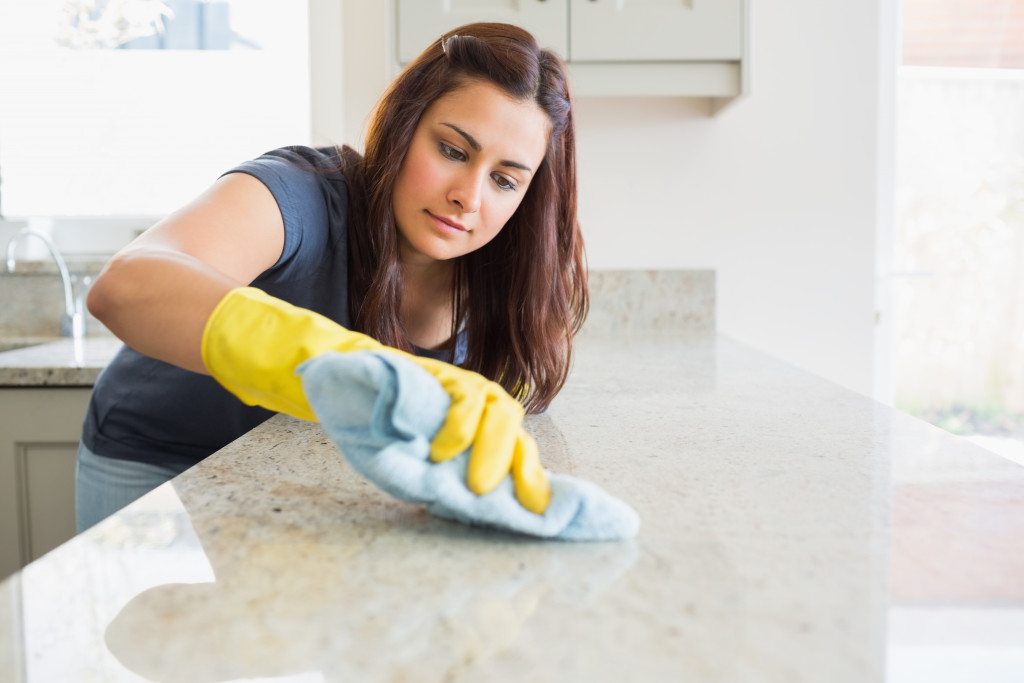 3. Deep Clean & Maintain
The mess of the previous year can start to pile up, so don't forget the importance of deep cleaning your home. This means washing windows, wiping down surfaces, and vacuuming the carpet. Be sure to also clean out any air vents or filters, as these can be filled with dust and debris that can cause allergies or other health issues. You can even hire a professional house cleaner to come in and take care of the deep cleaning for you.
Finally, don't forget to maintain your home throughout the year. Regularly dusting, vacuuming, and wiping down surfaces will help keep your home looking its best. You can also invest in air fresheners or candles to help keep the air smelling fresh and inviting. If you keep up with these maintenance tasks, you'll be sure to enjoy a beautiful home all year round.
4. Repair Anything Broken or Damaged
Look around your home for anything that needs to be repaired or replaced. Check for any cracks in the walls, worn-out carpets, or broken appliances. If you find anything that needs attention, get it fixed right away. This will help ensure your home is in tip-top shape for the new year. Many people also find it helpful to do a home walk-through before the holidays, as this can help them identify any potential problems or repairs they need to make.
You can easily repair some minor problems yourself, but for bigger jobs, you may want to consider hiring a contractor. This is especially true if you need electrical work or plumbing repairs. If you are ever unsure of how to fix something, consult a professional who can advise you on the best course of action. They will be more than happy to help you get your home in perfect condition for the new year.
5. Create New Memories
Finally, create memories! This could mean taking pictures with family members visiting for the holidays or hosting a dinner party with friends – whatever brings joy into your home should be embraced and celebrated! After all, having warm memories of family gatherings from this year will make future years even more special. You can also use this opportunity to start a new tradition or celebrate old ones.
A new year is an excellent opportunity for fresh starts – especially when it comes to our homes! By decluttering your space, refreshing your décor, and creating new memories with loved ones, you can ensure that your home looks its best while bringing you joy in 2023. So don't hesitate – get started today on giving your home a much-needed facelift!