Many seniors would love to age in place but have no choice to live in nursing homes. When elderly adults now have a medical condition and require regular supervision, one needs specialized care to support their needs. More often than not, their loved ones can no longer fulfill their caregiving roles due to personal conflicts. Thanks to nursing homes, they have a safe place to stay where they can receive the kind of care they need.
How COVID-19 Ravaged Nursing Homes Worldwide
Before the pandemic, many seniors and their loved ones didn't mind leaving their senior loved ones in the hands of nursing home professionals. But when the crisis erupted, many feared the health and safety of their loved ones. This is after news broke that many residents and healthcare staff in nursing homes got infected and died of COVID-19.
The crisis left many families grieving over the critical conditions and death of their senior loved ones in nursing homes. According to The New York Times, more than 7,000 COVID-19 deaths in nursing homes were recorded. This led many families to pull their senior loved ones out of nursing home care.
Nursing Home Challenges Exposed and Aggravated by the Crisis
Deaths and seniors suffering from severe cases of COVID-19 are not the only growing concerns in nursing homes. Increased health and safety precautions led many seniors, even their healthcare providers and nursing home staff, to feel anxious and depressed. This made their families feel more stressed out.
These are not the only challenges nursing homes have to endure during the crisis. The pandemic exposed many inconsistencies and challenges faced by nursing homes everywhere. The following are just four examples of nursing home issues that are evident during the crisis.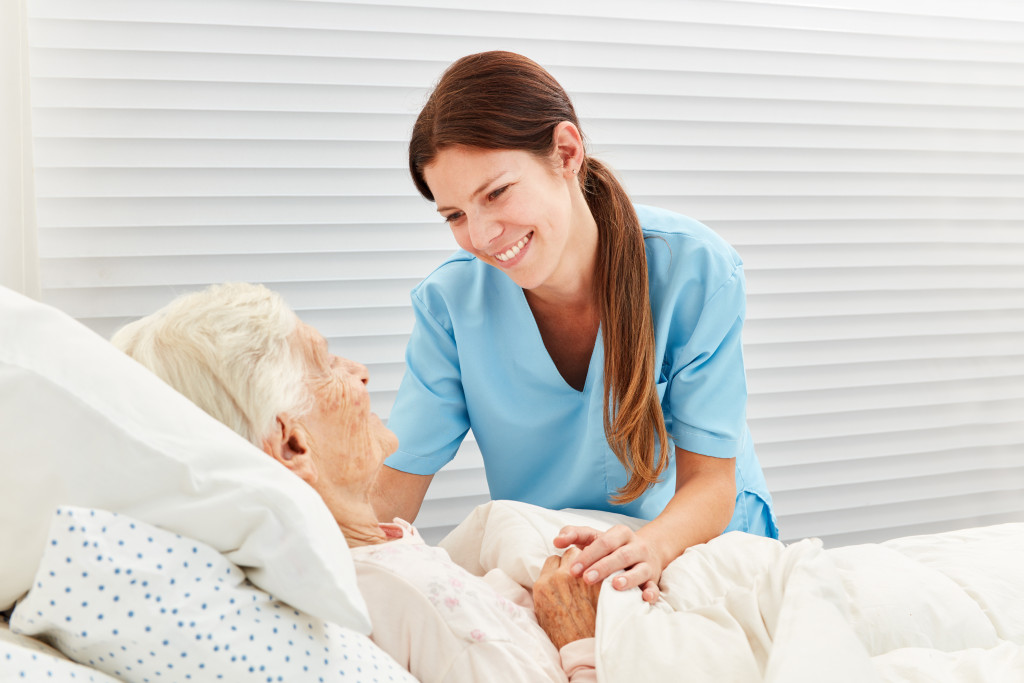 Financing Issues
Many seniors with disabilities have no financial means to afford their much-needed long-term services and support (LTSS). Medicare, being the primary provider of older Americans, only accommodates short-term healthcare services. This quickly depletes American's resources after paying for their required healthcare.
As for nursing home facilities, many lack the funds to finance the necessary improvements needed to improve the level of care in nursing homes. This made infection prevention and control a tricky feat, especially during the crisis. The same goes for creating a resident-centered LTSS system geared to provide continuous healthcare.
Lack of Specialized Healthcare Services
Not every nursing home comes equipped with all the necessary treatment solutions needed by every resident. Take the increasing need of some seniors requiring dialysis each week. Since many nursing homes don't have the necessary equipment, their residents travel to and from skilled nursing facilities (SNF) for on-site hemodialysis management solutions.
The lack of such healthcare services adds additional financial strain to residents that are already struggling financially. Since many nursing homes had heightened infection-control protocols during the crisis, it was difficult to allow residents to leave their respective nursing homes. This proved the need for frequent on-site dialysis in such facilities.
Understaffing
Many nursing homes lack qualified staff. Sometimes, lack of education, costs, and unavailability of qualified staff lead to nursing home understaffing. Another reason why understaffing happens is due to the stress and emotional pressure they experience at work.
When staffs are overworked and stressed, this makes it difficult for them to work effectively and efficiently. If not adequately compensated, or they feel neglected, they can end up leaving their posts. This leaves the nursing home management with no choice but to find other professionals to fill empty roles.
Nurses, nursing aides, and other professionals employed in nursing homes have so many responsibilities to fulfill. They are often overstressed and tired of doing overtime, making them unhealthy both physically and emotionally. When nursing homes don't have enough qualified staff, there won't be enough people providing the proper healthcare to their residents.
Many nursing home professionals were exposed, became infected, and died during the crisis, leading to an even bigger staffing problem. Some residents became victims of neglect. Others failed to receive consistent support.
Due to the understaffing problem, some seniors' medical conditions worsened. Others developed anxiety and depression. Seniors who used to be healthy now lost weight or developed bedsores.
This goes to show that the pandemic continuously threatens the efficiency of nursing homes. These facilities already face many challenges before the crisis. Everything turned for the worse after COVID-19 happened. If nothing is done to improve nursing home problems, residents will continue to suffer. Many more will get infected and die from the virus. Even the remaining staff will experience burnout.