A wedding is supposed to be the most beautiful day of any woman's life. Unfortunately, many women don't put much effort into their skincare before walking down the aisle. It is often because they are so busy with planning details that it slips their minds until too late.
Girls start your wedding beauty countdown with these steps to ensure that your skin is flawless on your special day. Besides a skincare routine, you may also want to consider getting treated with alma lasers as an added boost. This way, you don't have to worry about acne or pimple scars, uneven skin tone, or unwanted facial hair on your big day.
Skincare regimen for wedding beauty
Get into the habit of washing your face twice daily. Many women bathe or shower in the morning but sleep throughout the night without cleaning their faces. Your complexion will clear up in no time when you incorporate this step into your beauty routine, and it's vital before bedtime.
What are the benefits of having a skincare routine before your big day?
Having a skincare routine before you walk down the aisle gives your skin time to adjust to new products and start clearing up any blemishes. If you don't have a current regimen that works for you, talk with your dermatologist or esthetician about what they recommend.
A wedding day means hours in front of the camera, so a skincare routine will help ensure your skin looks its best. If you plan to have professional makeup done for the big day, most spas and salons require a minimum of two weeks' notice, so they have time to book an appointment with you.
Begin your wedding beauty countdown with a few weeks of refining your skincare routine. It will allow time for your skin to adjust and clear up any blemishes.
Tips on creating a skincare routine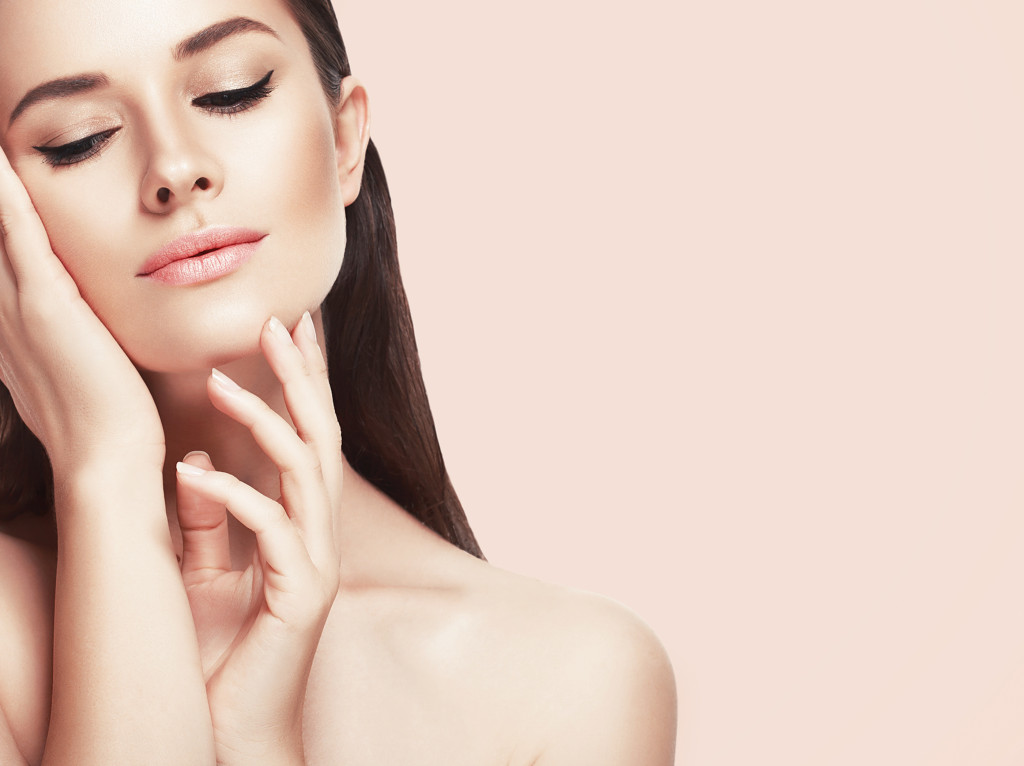 Here are a few tips specific to wedding beauty:
Avoid wearing heavy foundations before the big day because it may cause breakouts. If you do choose to wear foundation, find one that is lighter and is labeled oil-free, water-based, or noncomedogenic.
Wear sunscreen daily to prevent sun damage that can cause dark spots on your skin. It's crucial to wear sunscreen around your face before applying makeup because it will keep your skin looking fresh for extended periods.
Cleanse your skin at least two times a day to prevent dirt and oil from clogging pores.
Apply an antioxidant serum before moisturizing to protect against environmental stressors that can cause skin damage.
Treat blemishes with gentle acne treatments that don't dry out your skin. A dermatologist can help you choose the right product for your specific needs, but benzoyl peroxide is the most commonly used over-the-counter medication to treat mild blemishes.
Don't pick or pop blemishes because they can cause scarring, so visit a dermatologist if you have cystic acne.
Choose Your Skincare Products Carefully
Many women don't realize that certain ingredients in their skincare routine can break them out. Talk with your dermatologist or esthetician about the products you currently use to get their opinion on what might be causing blemishes. If makeup is necessary, look for foundations and other cosmetics labeled oil-free, water-based, or noncomedogenic.
What are some harmful skincare ingredients?
Heavy coal tar and other ingredients, including oils and butter can clog your pores, making it difficult for them to breathe, which results in blemishes. Other ingredients to avoid include high levels of alcohol, fragrances, and parabens.
Eat Healthy, Exercise, and Get Enough Sleep
Nothing gives you a glow on your wedding day like healthy skin. The food you eat can affect how your skin looks, so try to avoid fried or greasy foods.
Instead, opt for more fresh fruits and vegetables like apples, carrots, and blueberries. Drink plenty of water and get enough sleep every night to give your body time to rest and rejuvenate.
Exercise also helps clear up skin by removing toxins from the blood, so find time in your busy schedule for an energizing workout. Avoid too much caffeine, which can dehydrate your skin and make it appear not very interesting. And yes, take vitamins and supplements. You want your hair shining and your fingernails healthy, as well as your skin.
Maintain your skincare routine after the wedding is over.
It doesn't end with the wedding photo album or video. Having great skin is something you'd want to have the rest of your life. Maintaining your skincare routine after the big day will help keep blemishes at bay.
Brides want to be completely healthy and radiant before walking down the aisle. Know that no matter what your normal state is: dry, oily, sensitive, or blemished — you can create a wedding day beauty regimen that will give you natural-looking makeup with glowing skin.