Everyone dreams of having that one-of-a-kind wedding. It's a magical day for bride and groom alike. Luckily, it will only happen once, and planning this once-in-a-lifetime celebration can be one of the most rewarding experiences you'll ever have.
So to help you make the most special day of your life even more memorable, here are the 10 unique wedding ideas you should consider.
For the Couple
All the planning will overwhelm you, but it's all for the big day ahead. Here are some ways to have fun on the day you exchange your I do's:
Lose Your Inhibitions: Your wedding day is the celebration of your love. And what else can lift your mood more than a few shots? Lose your jitterbugs and the stress of wanting everything to be perfect by getting a few drinks. This is your wedding day, after all, and you're the ones who deserve to have the most fun. But still, make sure to drink responsibly!
Get Your Wedding Rings Tattooed: Aside from being a celebration, your wedding is also a promise of a future spent together. And nothing screams commitment more than getting your skin inked. Get your wedding bands forever engraved on your fingers or anywhere else on your body. Getting your vows—or at least a phrase from it—inked on your skin will make a great reminder of your promises to each other.
Hire Your Favorite Fast-Food Joint or Local Eatery: Planning and executing the wedding of your dreams can be draining. But who said you'd have to wait for that couple's massage on your honeymoon to relax? Who said being hungry at your wedding is okay? Don't spend a lot on a grand on catering you won't even remember after an hour. Choose local restaurants that you have personal connections with instead. You should be comfortable at your wedding. And you should be full.
For the Guests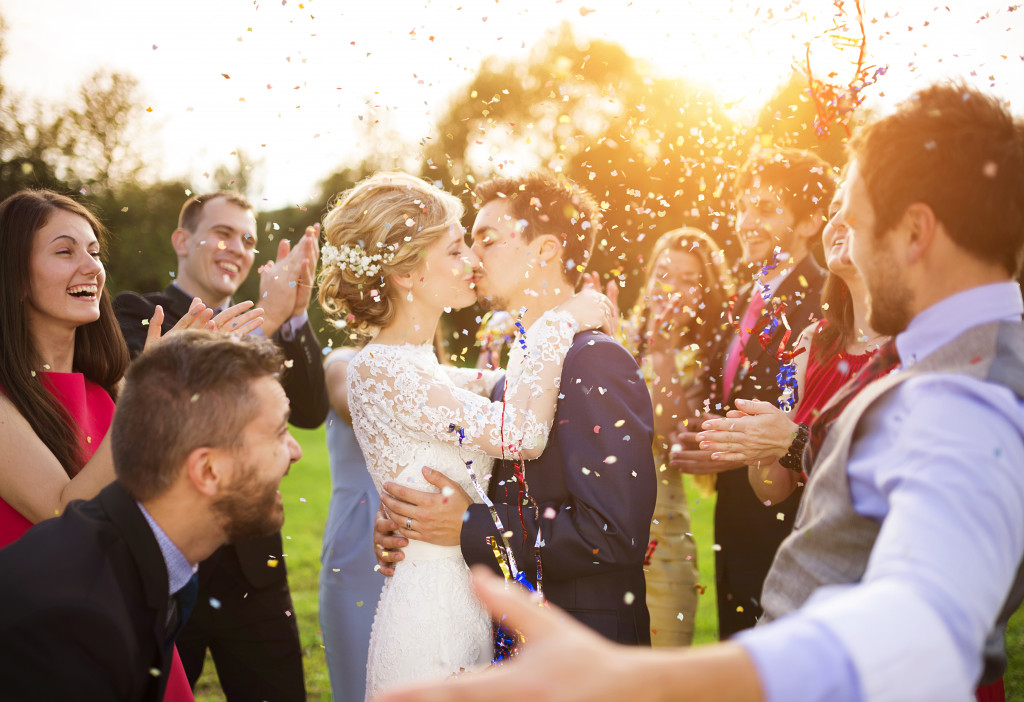 Of course, your guests are witnesses to your lifelong commitment, so you should make this event the one they've been looking forward to. Here are some ways you can make your wedding memorable for your guests:
Include Your Guests' Song Requests on the Playlist: As hosts, you have the social responsibility to entertain your guests. But that doesn't necessarily mean that you have to tire yourself out on your wedding day to make sure they're enjoying. By simply asking them to list down two song requests on the RSVP cards, you'll be ensuring that there will be at least five minutes of that day dedicated for them as well.
Get Your Friends and Family to Perform: Take the song requests suggestion and take it up a notch. Not only will you save money by asking willing friends to perform, but you'll also give yourself a chance to be entertained by people who know both of you. And you and your future spouse can even sing for each other. It's as inclusive as it gets.
Make the Toast a Competition: There will always be that one friend who'll spill the beans at your wedding. Most of the time, wedding toasts become more like wedding roasts. It's inevitable. Open the floor for everyone who wants to share and take it to an even higher level by making it a competition. The possible winner can be the one who gets the loudest cheer, the one with the funniest jokes, or the one who makes the bride cry the hardest from laughter.
Prepare Table Games. You won't have time to talk to everyone for more than 10 minutes. And most probably, these people are from different eras of both your lives. That means they won't have any reason to talk to each other. Table games change all of that, and they will have a reason to mingle. And you can even make the game about you.
Pro Tip—Make Your Wedding Gifts the Prizes: Let your guests know ahead of time that there will be games and that the prize for the games is a choice of any wedding gift on the table. Your guests will be more inclined to give you great gifts.
For the Memory
Finally, you'll want something to look back to from your wedding. These ideas should help you get over your mental block:
Make Personalized DIY Crafts as Giveaways: The bottom line is that it's cheaper. But more than that, it also gives you the flexibility to make the giveaways more token-like. Craft items that are for specific groups of people, making your guests feel more special. And it's not even hard to look for materials. Like how the Banner Solutions' website works for wholesale hardware acquisition, online wholesalers can make DIY crafting materials more accessible.
Make a Documentary. You'd surely want to revisit this magical day after a few decades. That's why wedding videography is one of the most in-demand industries right now. But what can make it even more romantic and memorable is making it a documentary instead of a mere recording. Get guests interviewed. Talk about your feelings throughout the day. Make it a surprise for your spouse-to-be. You never know; it can be the next big hit on Netflix.
Donate All the Decors After the Wedding. The perfect way to cap it all off is by doing charity. Everything you've spent on for this day doesn't have to be just for this day. Donate the flowers, the décor, the leftover food, everything. Making an impact in the lives of others can be a surefire way to make your wedding more memorable.
These 10 ideas are just that—ideas. In the end, what matters most is how you and your partner feel and what you and your partner want. Remember that this wedding is just the start of a fairytale, and there will be more magical days ahead. So never forget to enjoy it as much as you can.