We all have more free time at home these days than we know what to do with. Whether you're currently working from home or just sleeping away on weekends, finding ways to make the most of your time is essential. After all, time is precious, and it's not something we can get back once it's gone.
From decluttering your space to taking up a new hobby, there are endless possibilities for how you can spend your free time. So, whether you're looking for ways to be productive or to relax, give some of these ideas a try.
1. Get organized
One of the best ways to use your free time at home is to get organized. Whether you're decluttering your closet or purging your email inbox, organizing your space can help you feel more relaxed and in control. Not to mention, seeing everything in its proper place can be satisfying. If you're unsure where to start, try tackling one small corner or space at a time.
Some people also find that creating a to-do list can help them stay on track and motivated, even with something as simple as organizing. You can also try setting a timer to keep yourself on task. This will help you stay focused and can also help you identify which tasks take the longest. If you're feeling overwhelmed, remind yourself that you don't have to do it all in one sitting and that any progress is still progress.
2. Lessen your workload
Relaxing at home doesn't have to mean lounging all day. If you want to make the most of your free time, consider using it to lighten your workload. This could mean catching up on emails, taking some work home with you, or even just planning out how to tackle a project the following week. Not only will this help you stay on top of your workload, but it could also free up more time for yourself during the workweek.
It doesn't even have to be a large chunk of your work. For example, many creatives like to use their free time to brainstorm for their projects. Professionals in charge of product releases can start with the minor task of thinking up product shoot ideas. Others might even use their free time to write down product descriptions or product design specifications so they're ready when the project starts. These are great ways to use your free time without committing too much to your work.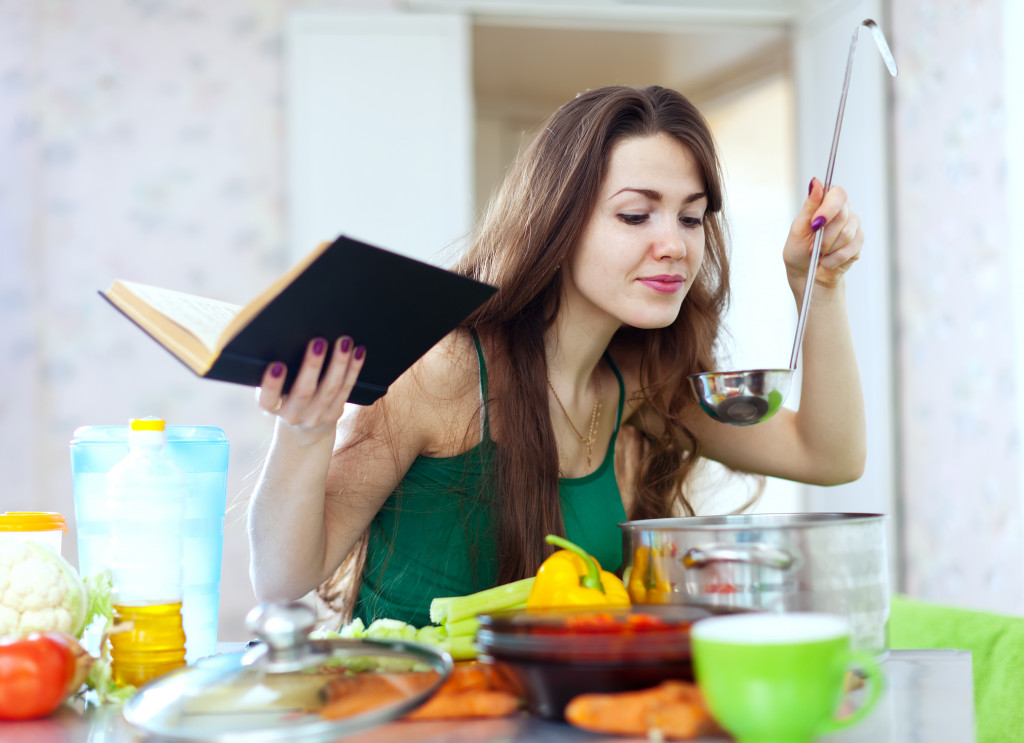 3. Take up a new hobby
Have you always wanted to learn how to knit or bake bread? Now is the perfect time! Taking up a new hobby can help pass the time, and it's a great way to relieve stress. Many hobbies are also extremely fulfilling and can help boost creativity. Plus, you never know what skills or insights you might learn in the process.
When looking for a new hobby, think about what interests you and how much time you want to commit. If you're looking for something low-key, try reading or trying a new recipe. If you're looking for something more active, consider taking up yoga or dancing. There are so many options available, so be sure to explore what interests you the most. You might even find a new passion in the process.
4. Get outside
Just because you're stuck at home doesn't mean you can't enjoy the outdoors. Spending time outside has many benefits, including reducing stress, improving moods, and increasing energy levels. So, take a break from Netflix and head outside for a walk around the block or set up a relaxing outdoor seating area where you can read or work on your tan. The fresh air will do wonders for your mental health!
If you're looking for a more adventurous activity, consider hiking or biking. There are many trails you can explore in your own backyard, and you'll get to enjoy the beauty of nature while getting in some exercise. Make sure to practice social distancing, wear a mask, and follow local health guidelines.
5. Catch up with friends and family
Finally, no matter how much free time you have, make sure to take the time to catch up with your friends and family. While it may be difficult to get together physically, video chat and phone calls are still great ways to stay connected. Set aside time each week to catch up with your loved ones and make sure everyone is doing okay.
Even though it can be hard to find the time, don't forget to make plans with friends. Even if it's a virtual happy hour or game night, it's still a great way to stay connected and catch up. And who knows? You might even learn something new!
Making the most of your free time at home doesn't have to be complicated. Whether it's lightening your workload, taking up a new hobby, getting outside, or catching up with friends and family – there are many ways to make the most of your free time. So, use this time to find activities that bring you joy and fulfillment, and remember to stay safe!