Some couples invest in a house before tying the knot, while others wait to get married before buying a house. Either way, buying a new home is a significant financial decision that will affect you and your partner's lives for decades to come. However, it is even more impactful when you buy a house after getting married—which is quite costly in and of itself.
If you decide to get married before buying a home, here are some of the best financial tips that can help you make the process a little kinder to your bank accounts:
1. Look for the right builder
If you want to build a home from scratch, finding the right builder largely impacts your overall budget. For one, the right builder will know how to turn your vision into a reality for the right price. Moreover, they will have the skills to keep unexpected expenses to a minimum.
Perhaps you have someone in your network that plans to start a homebuilding business or already has one. Working with a builder that you know personally can also help you secure a good discount on your new home.
2. Save up a good amount for the down payment
In general, the bigger your down payment is, the lower your monthly mortgage payments and interest rate will be. The reason for this is that you are a less risky borrower if you owe less money, which lenders reward with lower interest rates and long-term borrowing costs.
Most realtors and mortgage lenders recommend putting down at least 20% on a new home. Aside from lower mortgage payments and interest rates, a 20% down payment on a house allows you to avoid mortgage insurance, which can cost around $30 to $70 a month.
Of course, saving up a 20% down payment can take a lot of time, depending on your and your spouse's income. But if you have the means and paying 20% down won't drain your savings, it's a better option than making a low down payment.
3. Plan for the future
One of the essential factors that couples should consider when buying a home is how big their home should be. If you plan to have kids in the near future, opt for a home with enough bedrooms for the number of kids you want to have. On the other hand, if having kids is not on the drawing board, a starter home may suffice for now.
The amount of time you plan to stay in your first home is also an important thing to consider, especially when it comes to down payment. For example, if you plan to buy a starter home and move to a bigger home once your family grows, it is generally not a good idea to put down 20% as it can lower your return rate when you sell. In contrast, buying a "forever" home with at least a 20% down payment can help you reduce the cost of the loan throughout its entire life.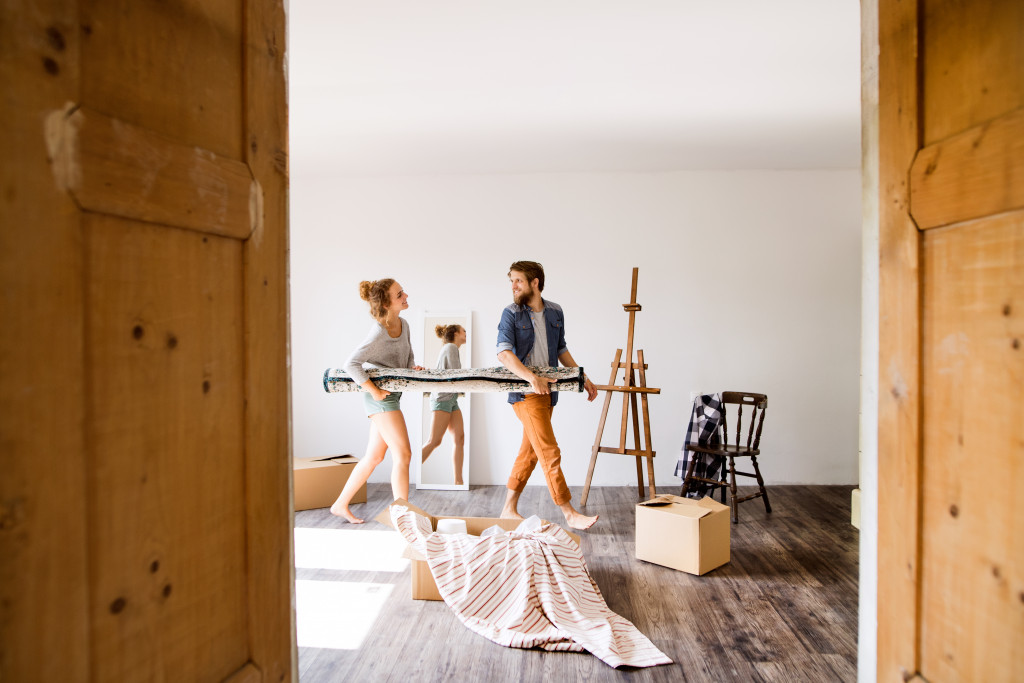 4. Determine the right budget
As mentioned above, buying a home is a significant financial decision that can impact your life for a very long time. The down payment alone can cause a major setback in your life savings. And aside from the mortgage, you also have to pay for utilities, maintenance, basic needs, and plan for family growth if you plan to have kids in the future.
With that in mind, determine a budget you can realistically afford—even if lenders pre-approve you for astronomically high amounts. Buy a home that you can pay for even if one of you becomes unemployed, one that will allow you to have more than enough money left for basic needs, home maintenance, indulgences, and debts.
5. Consider house hacking
House hacking refers to the approach of buying a duplex or dividing a single-family home to rent out a unit and cover their mortgage. Although this approach typically leaves homeowners with less space for themselves, it's a great way to free up income while building equity on their property—especially for first-time homebuyers.
If house hacking is an option for you, strongly consider it when choosing your first home with your spouse.
Conclusion
Now that you're married, you and your spouse will have to make major financial decisions together, and one of the first ones on that list is buying a house. While there are no shortcuts to purchasing a home unless you are made of money, there are a lot of ways you can make the process easier—and one of them is making the right financial decisions along the way.