Since the rise of the coronavirus, many couples have been affected and a lot of weddings have been postponed. But don't let the pandemic get in the way of your wedding plans! To some of us, a wedding is something we've been waiting to happen our whole lives. Though it will be nothing like the pre-pandemic, it doesn't make it less special.
If you want to push through with your celebration, do your research early on since there is so much to prepare for. It is strongly advised for you to hire a planner since there may be COVID-19 policies and regulations that you might need to negotiate. Rules and regulations may vary per state, and you would need someone to plan and research for you to lessen some weight off your shoulders. You can also ask your planner to recommend reliable wedding vendors that won't bail on you last minute and will adhere to pandemic precautions.
Planning ahead is really a must for a celebration during these times. By doing so, you'd be fully prepared for anything that gets in your way — even the budget. Expert wedding planners say that costs will be bigger if you plan to have your wedding next year. For a lot of people, a micro wedding is enough to have for now since it's less pressure, fewer guests to tend to in terms of budget, and definitely less risk.
Maybe you have been dreaming of a destination wedding which, fortunately, might still be possible but it depends entirely on the destination and how they handle the pandemic. The best way is to research their restrictions and see if it's possible to have a ceremony there in the first place. But do keep in mind that this might be more stressful since you'd be planning to have it somewhere else, and some of your guests may not be comfortable traveling that far for a wedding amidst the pandemic.
Alternatively, you can go for a virtual wedding and have your guests stream it on your wedding website if you wish to have a destination wedding or change your mind about having an actual wedding ceremony. Several couples have done it and maybe you should too if the idea appeals to you and your partner!
Things to consider on your wedding
Limit the number of guests
It won't be such a bad idea to limit the guests attending your ceremony. You can go for an intimate celebration, and just invite family members and close friends which we call a micro wedding, consisting of less than fifty guests. Consider having a drive-in ceremony too where guests are inside the vehicles while their cars are parked.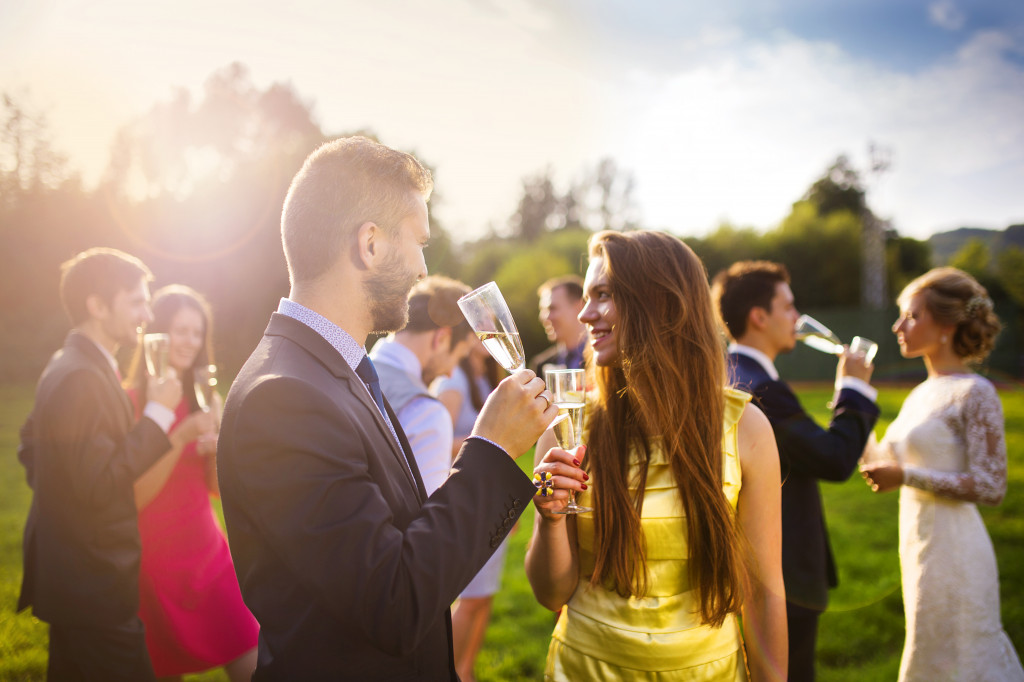 Send out invitations and messages online
Say goodbye to the neatly printed, glossy invitations and RSVPs. Now, you have to settle with tech to communicate with guests via email or social media platforms. If you want something creative and still a little extra, opt for a website specially made for your wedding where guests can check everything there. You can also go for a virtual invitation sent through their email in a video format that they can play like a presentation.
Practice socially distanced seating arrangements
Put a space of at least two meters apart with your seating arrangement. You can also add signs posted on walls or in the chairs to remind guests to practice social distancing and to refrain from doing physical contact, and settle with greeting from a distance instead.
Require your guests to wear a mask for indoor
If you have a ceremony indoors or it is a bit difficult to have it outdoor, a mask must be worn at all times. Consider installing a mechanical home ventilation system inside your venue if it's indoors. This will ensure that fresh air is continually circulating in an enclosed space which can reduce exposure to the virus.
Hand out some alcohols and sanitizers
Instead of the normal wedding welcome bags like mugs, food, umbrellas, and sunscreen, replace some of them with a COVID-19 care kit that includes a medical mask, a small bottle of ethyl alcohol, sanitizers, wipes, cough suppressants, and a thermometer.
Don't invite unvaccinated guests
Having a vaccine should add a protective layer to you and your other guests. You should require them to show a vaccination certificate before attending the celebration, or get vaccinated if they still haven't been. Do remember that vaccines don't eliminate the risks of the virus but reduce it, you should take all the precautionary measures to ensure your guests' safety.
Planning a wedding is stressful as it is, but having it during a global pandemic is more than what you might expect it to be. But that doesn't mean you can't do it safely. If you don't wish to postpone the celebration any longer, you would just have to be ready for anything that might get in your way. The best thing is to research, hire a planner, and get your guests vaccinated. As a host, do everything to maintain safety during the celebration. Other than that, enjoy and have fun.