It's surprising how the pandemic didn't hamper home sales. It did, however, change the way people purchase their forever homes. Buyers viewing prospective homes through virtual tours is now common.
Knowing this, how will you make your home, especially the living room, look more appealing to potential buyers? On the one hand, why will you put emphasis on the living room anyway?
The heart of a home is the living room. It's where most family activities are done. It's where some of the best family moments happen, too.
The living room is where you spend quality time with family, binge-watch your favorite series, entertain relatives when they come to visit, have a heart-to-heart talk with your teenager, and do many other family activities. For these reasons, buyers will pay close attention to this part of the house.
The challenge is for you to create a space that's worthy of family life's special moments. You need to "stage" it.
Home staging refers to a method of designing and decorating your home interiors to highlight its features and assets. It's a way to prepare a home for selling. Real estate companies like Donovan Home Sales know how to do it, but what about you?
Staging your living room is about presenting it to buyers in its most attractive, coziest, stylish, and functional form. Here are some easy and practical ways to make your living room a space that buyers would want to buy.
Lessen Furniture
According to the home improvement channel, HGTV, getting rid of clutter is one of the most important things to do when preparing a home for selling. Furniture significantly contributes to a home's cluttered look.
Professional stagers would get rid of half of the furniture in a home to prep it for the real estate market. This way, homes would look bigger.
In addition to this, you'd want buyers to see that they can easily move around when in the living room. If there's too much furniture, they'll see that foot traffic is blocked, and they can't get to some of your living room's best features like a huge window, built-in bookshelves, or fireplace.
There are ways to avoid a cluttered look in your living room. Minimize the decorations on the coffee table. Don't pile too many pillows on the couch.
And speaking of the couch, use a sizable sofa bed instead. It'll show buyers how comfy your living room is. It's a great way to show buyers, especially those with families, that your living room can be a place where little children can take a nap, teenagers can hang out with their friends, or the entire family can snuggle while watching Netflix.
Allot Areas for Each Member of the Family
Make your living room look inclusive, where each member of the family has their own place. Dedicate a zone for different needs.
Arrange your living room where one corner is for little children to play in. Add soft textures such as blankets and plush rugs to make it a safe place for playing. Provide seating options that double as storage for kids' toys. Dress the children's corner with playful, creative, and colorful accessories, too.
You can also set up a workstation on a table in another corner of your living room while dedicating the center or focal point of the space for movie viewing. Let buyers see that your living room is both cozy and functional.
When setting up a workstation, make it look like a flexible space with floating shelves and a comfortable, work-conducive desk chair. Add other elements such as a desk lamp, office supplies, and stationery.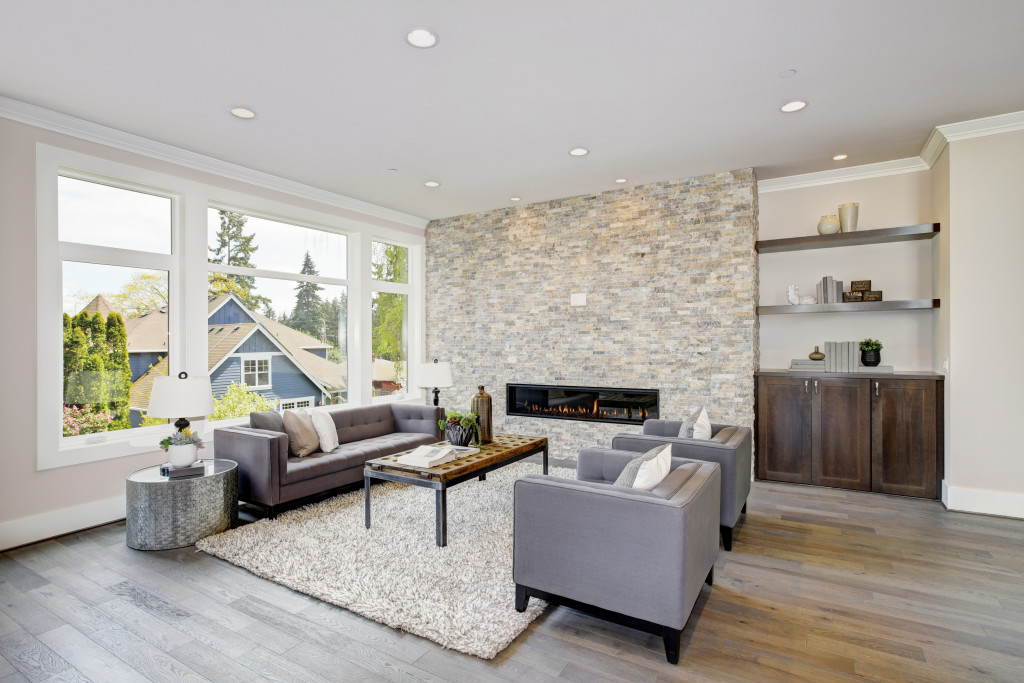 Take Advantage of Every Nook for Storage
If you can, invest in modular home furniture, so buyers can see that your living room is a flexible space that can work as a storage solution for personal, family items. Use a modular sofa, coffee table, and side tables.
However, if it's not economically possible, you can instead show buyers that there is enough storage in your living room, such as drawers and shelves.
Paint It Right
According to a leading online real estate marketplace, Zillow, paint plays a major role in staging homes for sale. They highly suggest sellers paint their living room before putting up their homes for sale. In fact, according to their Consumer Housing Trends Report, 46% of owners complete a paint project for one or more parts of their homes before selling their house.
Zillow suggested a nice neutral color, such as light taupe with pink, peach, and tan undertones for the living room.
Stage Your Living Room Today
It only takes a little time to stage your living room. It will not be much of a hassle to you. If you consider the result anyway, it'll be worth it. By the time you finish, your house will be ready for the market. Follow the tips above to stage your living room successfully.