As exciting as weddings are, they are also complicated to plan. However, you can eliminate most stressors before your big day with some organizational and planning skills. Plus, if time is on your side, everything should go smoothly. As early as 12 months before the big day, you should already be on the move. Don't know how? Read on to get an idea.
One Year Before the Big Day
Decide on a wedding budget
Your budget dictates all the other details about your wedding. The venue, the style, the food, the wedding dress—it will all depend on your financial capacity. Setting a budget right from the start will keep you from spending the money you don't have.
First, you must talk with your partner about what kind of wedding they want to have. You must be on the same page about all these details. Do you want a big wedding or an intimate one?
Contact different vendors and suppliers to get a quotation for your preferred wedding needs. This helps you to set a realistic budget. Sometimes the cost you can pay and the actual cost of the wedding you want don't match.
Decide on the date and venue
To pick a date, consider all the important people you need to be at the wedding. At this point, you should already have a list of potential bridesmaids and groomsmen. Pick a date that works for everyone. Once that is set, you can now start looking for venues and officiants.
After you book a date and venue, you can start putting together your guest list. Start planning the details of your wedding party and ceremony.
If you want, you can start being active in the gym again to be in your best shape when the big day comes. You can make excellent progress in 12 months. You should also address any other health concerns as early as now.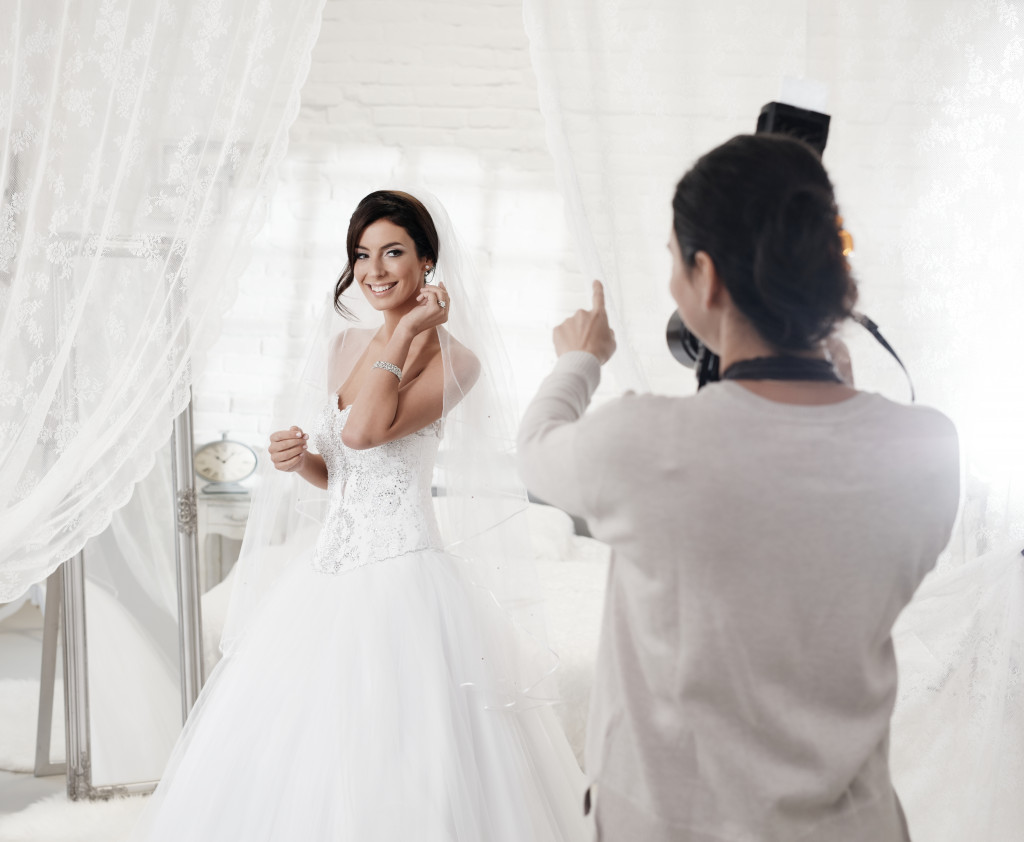 Eight Months Before the Big Day
Pick vendors and suppliers
From your initial contacts of wedding suppliers and vendors, choose who can accommodate your needs and preferences the best.
If the venue doesn't come with a catering package, you need to look for one yourself. Consider your preferred menu, the proximity to the venue, and the number of guests attending. Ask your guests in advance for any dietary restrictions.
Hire a band, a singer, or an orchestra. It's all up to you. Just make sure that music is present at the wedding.
Hire a photographer and videographer to document the big day. You might want to ask them about instructions the guests must follow so you can include them on your wedding website or invitation inserts. For sure, they have a few.
Pick a wedding gown and dresses for the bridesmaids
This is one of the most exciting parts of a wedding. Do not think that you can push deciding on the wedding gown to later. The earlier you have the perfect dress, the better.
Four Months Before the Big Day
Order your invitations. You can send them out this early but not later than two months before the wedding. Pick out your formalwear. And start looking for the perfect wedding cake. You also need to book your makeup artist and stylist around this time. Start looking for wedding bands.
One Month Before the Big Day
It's time for the final fitting of your wedding dress. Make sure that your maid of honor is in on every detail. Print out your wedding program. Call guests who haven't sent back their RSVP details yet.
One Week Before the Big Day
Finalize everything with your vendors and suppliers. You must have the final headcount at this point. Inform them of any necessary adjustments.
You must decide on the final seating arrangement by this time. Finalize the tables and place cards. Your photographer must have a list of the shots you want.
Finally, a few days before the wedding day, it's time to focus on you.
Visit your dentist for a teeth whitening session. You want your pearly whites to be their best on your wedding day. However, if you have concerns about your teeth, it's best to visit as early as possible, months before. You don't want to find out you're missing a tooth and need a major tooth implant just a few weeks before your wedding day.
Book for hair treatments in the week leading to your wedding day. Sometimes, it takes a few sessions to achieve a healthy-looking crown of glory.
Get your nails done and ready for the photographs. Book a manicure and all the other treatments you want. Get waxing sessions if you need them. Just schedule it at least two days before d-day. You don't want red blotchy legs on your wedding day.
After a whole year of planning, you deserve to enjoy your wedding day as best as you can. There might be minor mishaps and things you did not expect, but as long as all the big things are okay, you should not sweat it. After all, this day is all about you.