Weddings can be one of the most magical moments that a person can ever experience in a lifetime. It is a culmination of love and romance, celebrated with the ones we love the most. It can truly be a once-in-a-lifetime experience.
And while we recognize how exciting a wedding can be, the preparation for this lovely ceremony is a different story. Underneath all the atmosphere of love are plenty of hard work, detailed logistics, and meticulous planning. Yes, weddings are nice, but the work that goes into them way before they happen can be a grueling experience.
One major part of most weddings is the parties that ensue shortly after the ceremony. A wedding is a celebration of love, after all. A good party to celebrate the start of a couple's marriage seems like an appropriate action to take.
Every party needs good food. This is simply part of a memorable wedding experience. This can be a lucrative business for restaurants and cooks who want to make a living in the food business. In 2019, there are about 2.02 million weddings that took place in the United States alone. This is essentially a market for those who have a passion for cooking and serving food.
A Unique Dining Experience
Catering for wedding receptions poses several challenges. There is always the objective of wanting to create a unique dining experience for the guests. This can be challenging, given that there are plenty of people with varying tastes and preferences present in these receptions.
Nonetheless, caterers must make sure the food they serve can satisfy the people they serve. They should also ensure that they satisfy the preference of the couple. This makes sure that they can provide good food for the newlyweds.
Working Hand in Hand
With that, caterers usually have to work closely with the designated wedding planner or the couples themselves. This ensures that the preferences for the party are well-communicated and documented. By working closely with other stakeholders, caterers can provide the best experience for the couple and their guests.
Also, this can help caterers cook and serve food that can be consumed by every guest. Caterers and wedding planners should talk about any food allergies and food restrictions that the couple or their guests may have to avoid cases of anaphylaxis. This also helps in ensuring that their dining experience is safe.
Service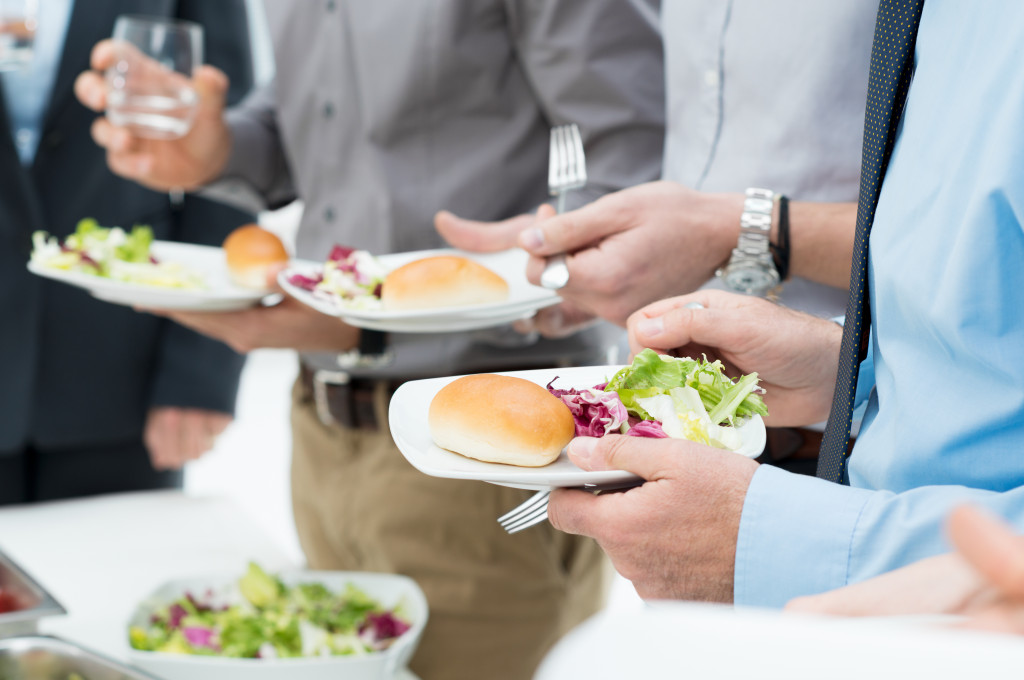 Caterers often have different styles of serving their clients. Clients have the option to have their food plated and served or have it served buffet-style. Hors d'oeuvres should also be served before seating.
Drinks are also imperative at every wedding reception. With that, caterers should have multiple options for different guests. They should also have a steady supply of ice to keep drinks cold. With that, ice machines such as Scotsman ice makers should be ready. It wouldn't hurt to bring some spare parts for these Scotsman ice machines in case something happens.
Staffing and Logistics
Aside from providing the food to be served, full-service caterers often have to provide staffing to ensure that the catering service goes well. These typically include people who would help set up the caterer's station. This also includes food servers.
Apart from that, some caterers have the option to provide tables, chairs, and decorations, along with plates, glasses, and silverware. This is still part of the duties of a full-service caterer. Of course, this should always be discussed with the wedding planners, as well as the couple, to ensure that everything is within the theme of their wedding reception.
This can be a lot to transport. With that, caterers should make sure to have their vehicles to transport everything and everyone. It would also be sensible to cater to events that are relatively near the headquarters of a catering service to ensure that they can provide the best service for these events. But regardless of distance, caterers should take into account the vehicles they have to use for their engagements.
Caterers may also be responsible for the cleaning after the reception. Of course, they are also tasked to bring back whatever they brought to the party. This is the latter part of the logistical process.
So How Hard Is It to Cater Wedding Receptions?
With the multiple responsibilities that caterers have for a wedding event, it may not be so easy after all. This field of work requires patience and precision to ensure the best quality of service to clients. While it may be challenging catering for a wedding, it would also be an honor to witness the start of a beautiful marriage of two souls.