Newlyweds are often looking for ways to have fun together. They could go out on dates or take up a new hobby. The latter is the easier option because it doesn't require any planning ahead of time. Often, you'll need some equipment and a space in which to practice.
Your new hobby can be something as simple as scrapbooking, pottery painting, or playing tennis as long as it's something you both enjoy. Most importantly, as long as you both agree on it and commit yourself to do it, there's no reason you can't enjoy these activities together too.
If you're not sure where to start looking for ideas about hobbies your spouse would like, perhaps these ideas will help:
1. Go Out and Dance
Dancing lessons are an excellent choice for those who love to dance. Whether it's hip hop, ballroom dancing, or salsa, there are plenty of classes out there that will accommodate any style.
Ballroom dancing classes are a great way to be intimate with your spouse, and it's also a form of exercise. Once you have children, bring the whole family together and take your little ones to kids' ballroom dancing classes so they can get in on the fun.
2. Play Tennis Together
Tennis is a popular sport that just about anyone can join. It's especially great for couples because it has several things to offer them. You can quickly learn the rules, make new friends, and, of course, it's an excellent way to work up a sweat while having fun!
A little competition isn't a bad thing either. If your spouse is competitive, then it can be just the right motivation for them to train on their own so they'll be fit enough to beat you on the court someday.
3. Cooking Lessons
Cooking might not sound like the most exciting activity in the world, but it's one of the easiest hobbies newlyweds can take up.
Cooking is fun when you're working with someone else because you get to laugh together when something goes wrong or bond over something that turned out great. It's also an excellent way to impress friends and family, especially on holidays. Imagine the look of surprise on their faces when they find out that you cooked their Thanksgiving dinner all by yourselves!
The only thing you'll need to spend on is ingredients. It doesn't take too long to become a decent cook anyway, so it won't be an extended investment to take cooking lessons together.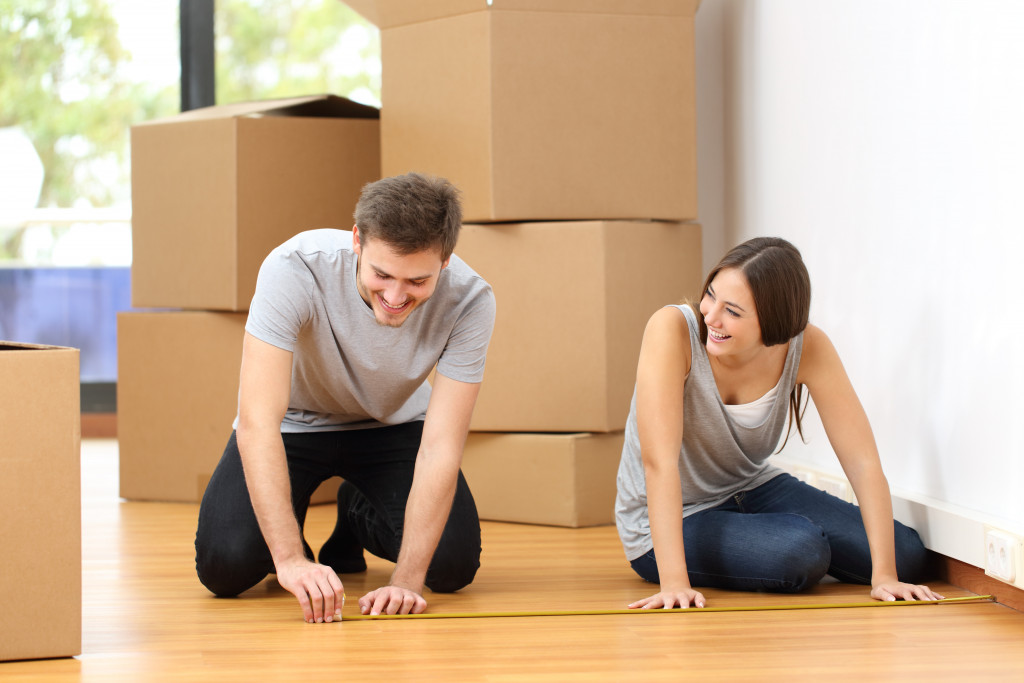 4. Home DIY Projects
DIY projects are great to do together because they're not too demanding. If you're busy with work, it's unlikely that either of you will have enough time to master woodworking. Learning woodworking can take weeks, months, or even years before even producing one small item.
Home DIY is perfect for couples who need something to do when they're in the mood for bonding but don't have much money to spare. You can save on projects inside your home and work on them bit by bit. This way, you'll get to enjoy the satisfaction of fixing up your place with each project you finish. Imagine repainting the walls together or building a porch or patio.
Many couples find that doing home DIY projects together is the best way to bring them closer than ever. It's not just about having fun. It can be a great way to express your creativity and appreciate your spouse.
5. Gardening
Gardening is one of the most popular hobbies in America, and with good reason. It's simple, you can do it alone or with other people, and it doesn't require anything too fancy.
Whether your partner prefers to spend time clipping flowers or creating a herb or vegetable garden, there are plenty of things you can do to enjoy yourselves while taking care of your small patch of green.
There's also value in growing your own food. Not only will it give you a sense of accomplishment, but it can also help save on food expenses.
6. Going Out for a Hike
Hiking is one of the easiest ways to enjoy nature and get some exercise too—without even realizing that you're doing all that much. Just bring your partner out into the woods with you, and you'll be able to enjoy your time together while enjoying the fresh air. But make sure to bring essentials like a first aid kit or bear spray just in case.
These are just some of many hobbies newlyweds can take up. If you know what your spouse likes, finding a new hobby you can enjoy together will be a piece of cake. You just need to get creative and find something unique and can strengthen your bond as a couple.